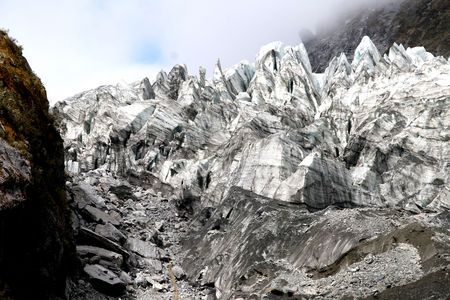 The itinerary takes us West where the plan is to skirt the coast of glaciers and beautiful beaches. We pass through Haast which is supposed to be of great scenery but the lush tropical rainforest on both sides of the road makes it a bit dark to see anything else. We have a small mechanical problem and waste around an hour to get it fixed.
As we arrive at Fox Glacier town, we find out we can't join a tour on a Glacier walk with Noemie (no babies allowed!) so we settle for the walk leading to around 200 meters from the ice.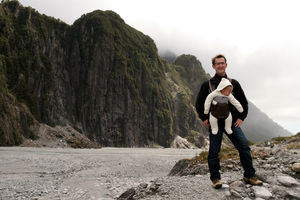 The Fox Glacier walk is enjoyable. It goes through a grayish valley where tiny emerald green lakes abound. The mountains surrounding the valley come straight out of the Jungle Book. We drive to Franz Josef Glacier and again take the 30 min walk. We found both glaciers to be disappointing compared to the ones we had seen in Patagonia. Nevertheless we still can't picture the tropical forest we drove and walked through to get to the glaciers. You would imagine glaciers to be close to the sea, on lakes or in high mountain settings. Strange phenomenon.
We sleep at Hokitika, the land of the 'Pounamou', New Zealand's green stone town.