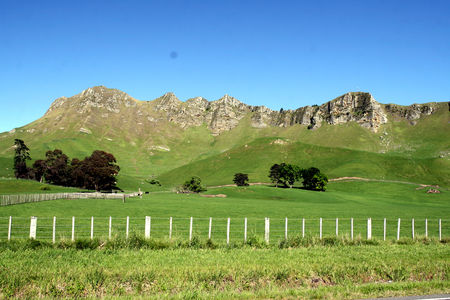 Today t-shirts come alive out of our suitcase! Yoohoo! Sunshine and warm temperatures. Visit Craggy range winery (one of the best red in NZ) in Hastings for with nice setting.
Take a walk in Napier's busy streets, observe art-deco architecture and enjoy summertime for a few hours.
Lunch at the Mission where Jeremie experiences Kangaroo meat (didn't know it is eatable). Very good food here but we find the wines a bit flat. Overdosed with all drinks white and red - but in good condition to drive - we head for Taupo. The clouds slowly start to fill the panorama and soon, we're far from that summer feel of mid-day hours… it rains heavily as we get there and we're disappointed to discover a weather forecast as bad for the next 2 days… What shall we do? We decide to wait until we have good conditions for a skydive or for a nice walk. The intention was to do the Tongariro Alpine crossing but we don't think it will be possible with the weather. We take it easy by lake Taupo. This is the first time we are able to lie down for 2 hours since the beginning of our campervan trip.
Tips:
Lunch at the Mission at Church Road, in the outskirts of Napier. From the terrace of the restaurant, you have a view over the vineyards. Worth the trip!