Marlborough country. The real one is on this island. Here, Sauvignon blanc and Riesling dominate the landscape, rain and clouds rule the sky. Perfect day for savoring the region's wine caves. We treat ourselves to a fine lunch at Twelve Trees located in the Alan Scott winery before sampling the wines at three other wineries.
We found the wine too heavy on the taste at Mahi (and very expensive as well). We got excellent Gerwutstraminer and Pinot Gris at 'The Grove Mill', and we finished with the best wines of all (so far) at 'Forrest'. (a more thorough posting on wine by Jeremie later)
Nothing more to do in this area, so I take the wheels (women rarely get stopped for alcohol testing) to Picton, and from there to the famous Marlbourough sounds. The vistas on the bays and surrounding hills make up largely for the notorious roads in serpentine.
It took us around one hour to get to the deserted and unspoilt beach at Misteltoe bay. It's bird country here and we hear many of them speaking to each other about those chasing humans who can't help but spoil their intimacy.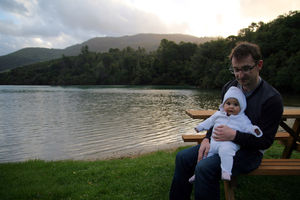 Tips:
Dinner by the beach on the benches at Rita's kitchen…
We are amazed at the cleanliness of kiwis and the silence