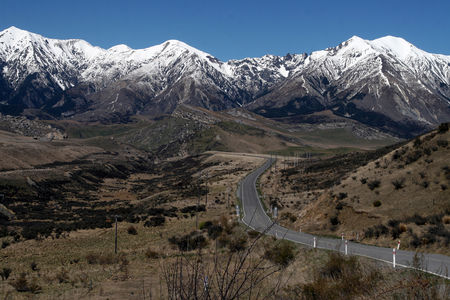 Even though there is no set itinerary for our trip, it was agreed that we'd go north of the South Island towards Abel Tasman NP. [How come the islands don't have names? could at least have made it simpler with Zealand one & 2 or sheep bird island and human island (not creative, ok)]. So we visit some jade shops in Hokitika and I get some nice necklaces in local pounamu stones. To tell you the truth, we were a bit disappointed with the West Coast scenery and attractions and the ride north seems long with only the Punakaiki pancake rocks on the way and Abel Tasman National Park being the end reward.
On a coup de tete, we decide to change plans and take the road through Arthur's Pass, one of the finest journeys across the country. The road can be tricky at times, but the scenery is definitely worth the trouble and we are blessed with good weather. Snow capped mountains all around, yellow and green fields surround clear water rivers. It becomes harder to drive with such scenery… It is really beautiful.
We continue in the direction of Kaikoura. This is the country's whale watching and marine animal destination. At arrival, we forget all about the whales and we are speechless at the scenery. The long coast of dark sand, irregular rock formations, and pristine waters is full of… empty beaches. What's more, the peninsula is surrounded with a high range of snow-capped mountains making the view - from anywhere - unbelievably beautiful. At the i-site we are disappointed to find out that the boat tours to see the whales do not allow children below 3 year-old. Mmmh. Another one not for young parents.
After a few minutes we're actually thankful for that as we have enough time to explore the peninsula. The fur seals lie lazily on the coast as (few) tourists snap shots and walk on the shore. Noemie in the stroller, we walk (it's actually quite steep with a stroller) to a high point and reach the fields. We take some time to chat with a retired couple on vacation and exchange views on the mountains and the two shorelines that make Kaikoura so unique.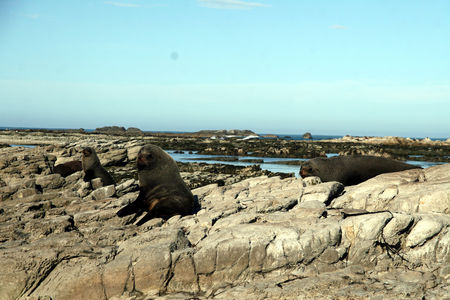 Tips:
Dinner at Blueside Bay Café: Great dining experience where we taste a Sauvignon Blanc of very good quality, but we give the local crayfish a miss.
We stay Alpine Pacific Park. Great and free showers.