22 février 2013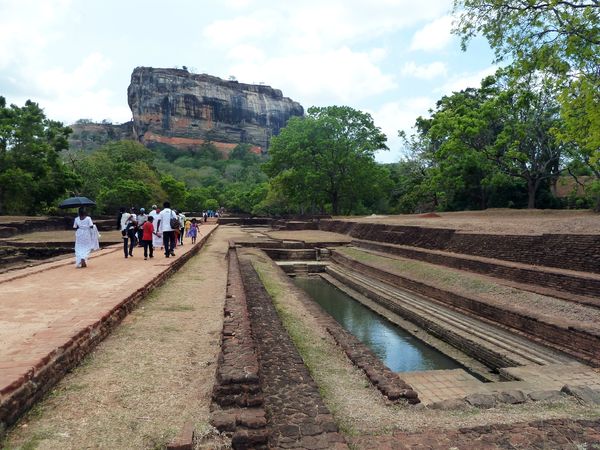 Breakfast is not a joke at our resort. It is all good and nicely presented and we are quite heavy, but prepared nevertheless to conquer the ancient rock fortress of Sigiriya, one of Sri Lanka's major touristic highlights.
It involves climbing a huge rock formation on top of which used to lay the fortress. We come prepared: Jeremie takes Noemie in the baby swing and I shall manage to catch my breath and rest as much as I can, being 5 months pregnant… The way up is mostly composed of quartz narrow steps that can prove slippery at times.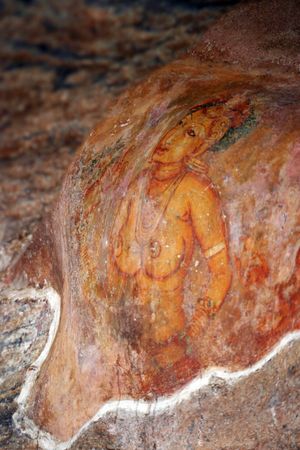 Going up becomes harder if you have to mind other people's walking rhythms and you end up tiring faster than you think. We start getting high up and climb the aging metal stairs that lead to the cave, famous for its paintings of apsaras with generous breasts.
The place is quite small and we walk on a precarious metal platform while other visitors are already on their way back. It's definitely not for people who are afraid of heights…
We climb down the stairs and continue the climb up to the top. It gets sweaty under the mid-day heat but there is a lot of wind (I almost loose my hat).
We sit for a rest and suddenly Noemie becomes the attraction of the day. Everyone have to have a picture of her or with her. We stand by as she strikes the pose for an ever-growing number of boys and girls. Then she decides it is enough of this paparazzi business and we continue our climb.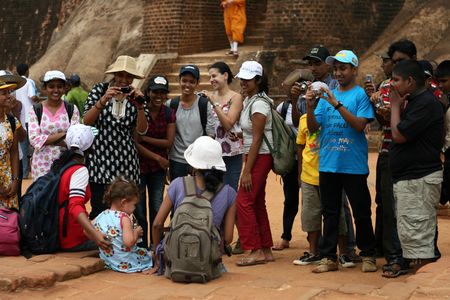 We reach the top finally after 45 minutes and enjoy the nice fresh breeze. The views on the plain and the jungle all around us are stunning, but apart from that, there is nothing much to see on top of the rock unless you have a swirling imagination. We are a bit disappointed but glad we made the effort. The way down takes us barely 15 minutes and we briefly look at the surrounding ponds before heading to the hotel for a well-deserved buffet lunch and a nice swim followed by a long nap.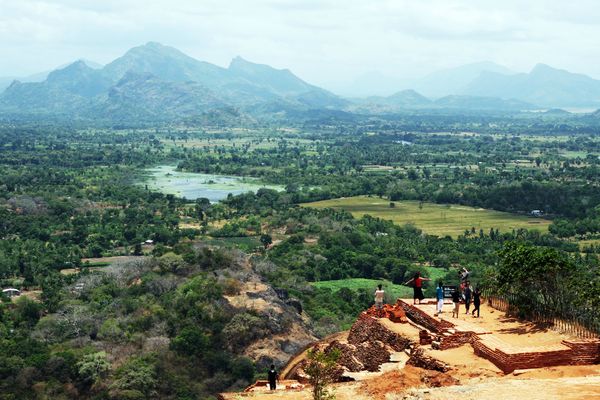 Tip of the day
The entrance to Sigiriya is US$ 30 which is a rip off considering the state of installations and the maintenance needed. It takes 45 mns from Habarana to Sigiriya by car. The climb is not difficult: it's all stairs! It took us an hour, with two long stops of a total of 30 mns.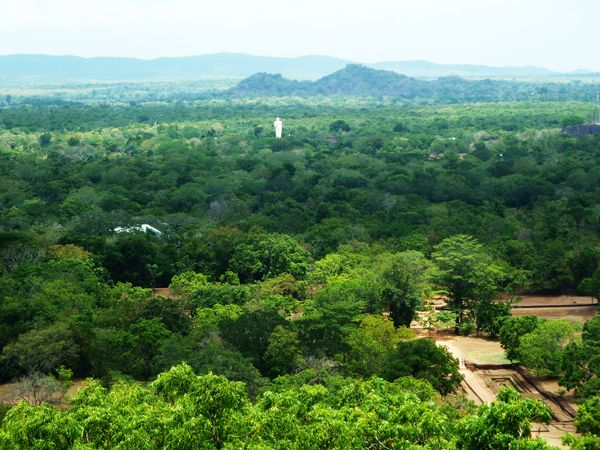 18 février 2013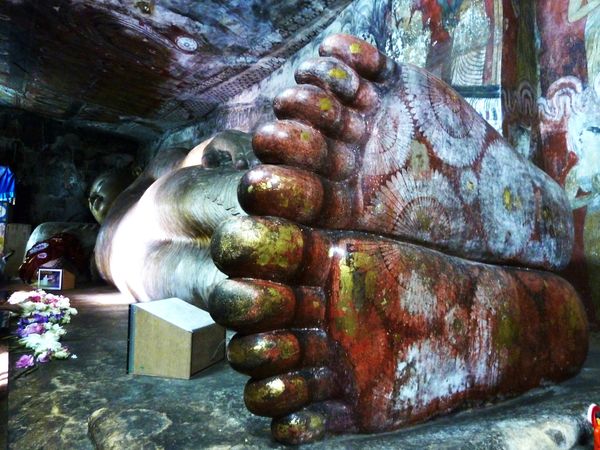 This is it for Kandy. We gather our stuff and hit the road in the direction of Dambulla and its famous rock caves. It is around 70 kms from Kandy and takes us two slow and long hours of driving nevertheless. Did I mention that our driver is not a formula 1 champion?
The place is also known as the Golden temple or the Rock temple or caves. What we did not know is that the entrance is at around 150m above the parking level and involves a steep climb (stairs mainly thanks God!). It takes us at least 30 minutes to reach the top with stops here and there to look at the monkeys playing in the trees and looking for food.
The temple is composed of 5 caves, all aligned inside the rock formation. In the first one, a gigantic Buddha lies down just by the entrance. The soles of the feet are painted in intricate designs, and so is the ceiling.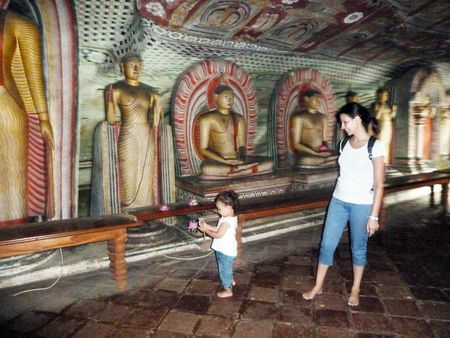 The second cave is the most impressive one. It is massive with a whole population of identical Buddha statues quietly seated in meditation. The ceiling, carved and polished at different heights and levels, is all painted of Buddha figures and other religious designs at times. There are a lot of visitors, most of them worshippers coming to pay their respects. Noemie wanders around with her flowers ready for offering but always manages to change her mind and save the flowers for the next Buddha encounter... The other caves are also nice but quite small. We spent some time in the last one, which is a bit different. The climb down, takes us barely 15 minutes. We are really happy to have visited this place; it is not to be missed.
It is already mid-afternoon and we hit the road to the resort where we have booked in Habarana. The place is spacious, set amidst the woods, by a quiet lake. The rooms are quite spacious and gracefully decorated and the bathroom is huge with a lot of earthy tones. We finish our day by the swimming pool and have a light late lunch.
Tip of the day
It takes two hours by car from Kandy to Dambulla. Dambulla temple's ticket counter is NOT at the top, but at the entrance of the site on the right. If you climb all the way, they won't make an exception and issue you a ticket! The counter is closed from 12:30 to 1 pm. The drive from Dambulla to Habarana takes around one hour.
At Habarana, we stay at Chaaya Village, US$ 130 for a deluxe room with breakfast.
This is a very nice resort, by a lake, with a nice swimming pool, and lush surroundings.
15 février 2013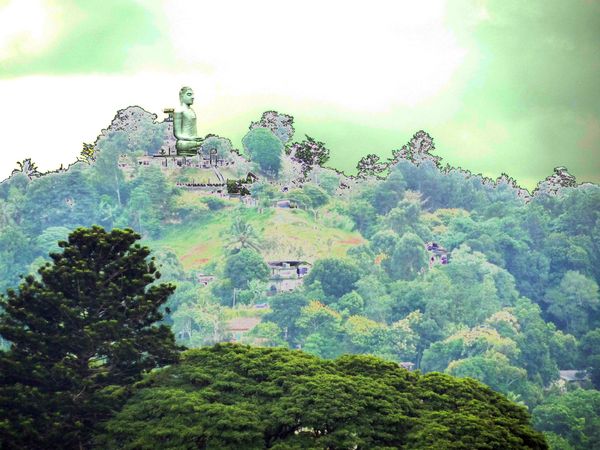 Kandy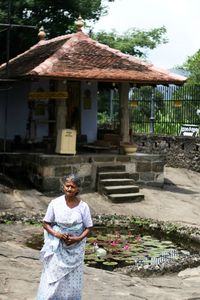 After a good night's sleep, we have our breakfast outside, on a nice terrace, in front of a huge garden. Completely recovered from the long journey and jet lag, we take off late morning for a loop in the deep countryside where we visit three lovely temples.
All the roads we have seen so far are surrounded by lush vegetation on both sides and the way is narrow which makes it difficult to picture in all the three-wheelers, motorcycles and trucks. We arrive at a first temple in Gadaladeniya. The temple is a small complex on top of a flight of stairs. Noemie is on her dad's shoulders enjoying the sight from up above.
Although the temple is nothing special for us, there is a nice feel to it with the small ponds of water lilies here and there. We end up spending some time taking pictures. Noemie walks around and is very happy to encounter Buddha again (old memories from Thailand).
There are lots of local people visiting and lighting candles and incense sticks.
After a while, we head to Lankatilake temple. We reach the temple after a hundred steps but it is well worth it. We enjoy the superb views of the valley and just see time passing by, sit in the grass and enjoy the surroundings.
We then go and visit Embekka Devale, a temple with nice carved wooden pillars
This is a Hindu and a Buddhist temple at the same time. Noemie has lots of fun visiting the small caves with all its Buddha statues. She also becomes the attraction.
Overall we liked those three temples very much; they do not have huge religious significance, nor are they stunningly beautiful, but it is very nice as they are lost in the country side, with rice paddies everywhere, and no tourists in sight, only regular folks.
We head to a place mentioned in our 1991 edition of Lonely Planet: Elephant River Side, just to catch a glimpse of elephants for Noemie but of course the place is long closed.
Nonetheless, the road alongside the green river is very nice and we stop for lunch by the river.
It would be a shame leaving Kandy without seeing the lake. So we take a boat ride. The small lake is very nice and we look around at the abundant varieties of birds and some turtles.
We walk around a little in the so-called market, but it is not impressive really. We are not terribly impressed by Kandy, so we call it a day and head back to the hotel for a quiet evening.
Tip of the day
Lunch at Honey Pot, by the river (on the road to the War cemetery). Food is ok and doesn't take too long to be served and the view is nice.
Dinner at our hotel (The Mansion). Food is okay but nothing spectacular.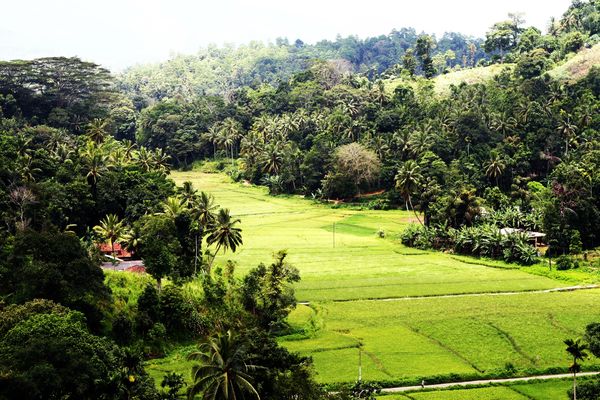 Rice paddies around Kandy
12 février 2013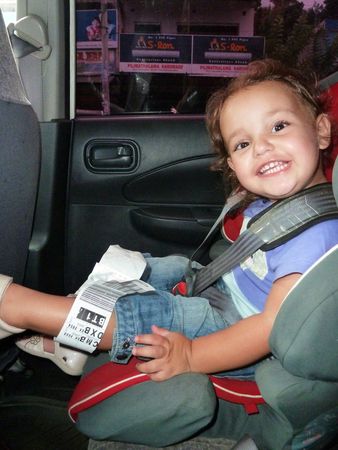 It is a long day at work and we end up leaving quite late and rush through Beirut's traffic to head back home. We barely have time to put the final touches on our luggage, and prepare Noemie for the big trip before the taxi arrives.
All goes well at Beirut's airport, and our trip to Dubai goes smoothly. It is nice flying aboard Emirates, and the remake of Dubai's airport surprises us. We spend some time sampling fine spirits and noting down what we'll buy on our way back. When we board the plane to Colombo, Noemie is already sleeping and she will wake up only we land at our final destination. Going through immigration and customs in Colombo is very straightforward and the airport has changed a lot since the last time I was here in 1997…
We have booked a car and a driver and it was great to find him right away. We don't want to drive in Sri Lanka, and are tired of everyday's traffic in Beirut, adding to that the little appetite for spending time finding our way.
Strange enough we are not tired although we slept just a few hours. It takes us ages to reach Kandy, the country's second biggest city. Four and half hours when we thought it should take three. I can't complain as I slept most of the way and woke up just in time at the arrival in the hotel. We chose to stay at an old colonial house in the country side just outside of Kandy. We spend some time by the swimming pool and then have lunch by the terrace before a well deserved three hours nap.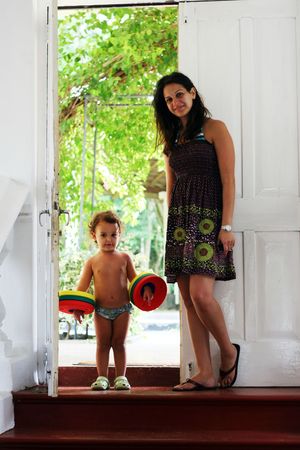 Tip of the day
Rent a car: USD35 /day for a car and driver.
At Kandy, we stay at The Mansion. It is a huge colonial house, set back in time with a very large garden and a swimming pool.
Entry to Sri Lanka: no visa required for most Western countries
29 janvier 2013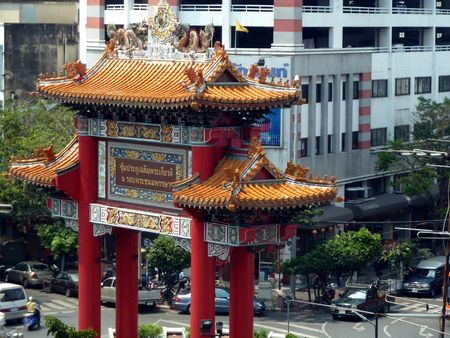 In the pool, Zoe and Rita decide to burn all calories gained during the wonderful breakfast. Zoe is now a fast swimmer and proves hard to beat!
Today is our last full day. Walking around in Chinatown, I make the observation that all Chinatowns in the world are similar, they can be as far from China as possible, there are always the same smells, red lanterns, loud locals.
We visit a big temple with a golden Buddha in intricate designs, then a Chinese shrine. We spend some time walking a covered Samong street and then go for an ok lunch next to the pier. A taxi takes us to a shopping area where Jeremie is on T-shirt vendetta and then we come back to the pool at the hotel to cool down.
Today is Noemie's 2nd birthday, she has been adorable all day long.
This is our last day in Thailand and we got to head back home.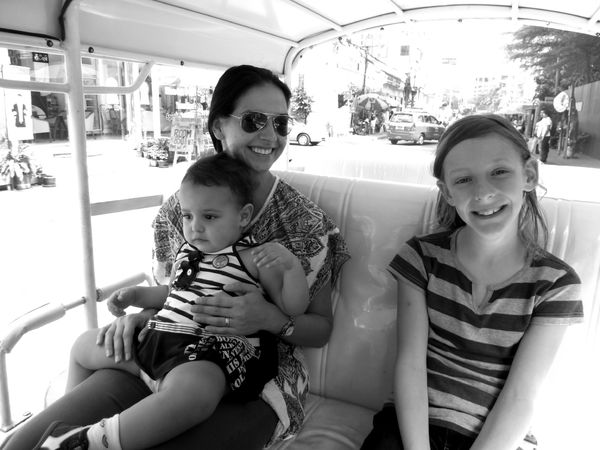 25 janvier 2013
Here we are in Bangkok. We enjoy a nice swim at the wonderful pool right after breakfast. Bangkok's tourist attractions - though not always full with history or cultural traditions, are not to be missed. We head first to the grand monuments at Ko Ramanakosin. Among the usual suspects, the grandiose RoyalPalace and Wat Phra Keaw. We hire the services of a guide which proved useful in understanding the religious, cultural and historic significations of this wonderful place.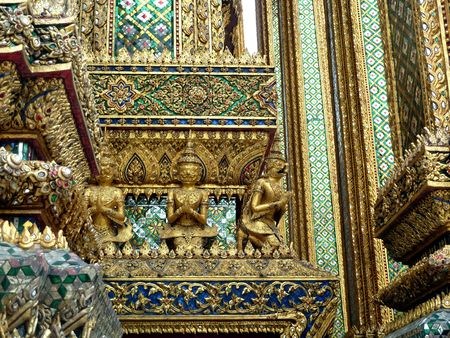 We turn around gold pagodas, the temple guardians and various statues and the revered emerald Buddha.
In the open air, the amulet market is amazing. There are amulets of all sizes, shapes, designs, and it also gives an idea of the popularity of amulets among Thais.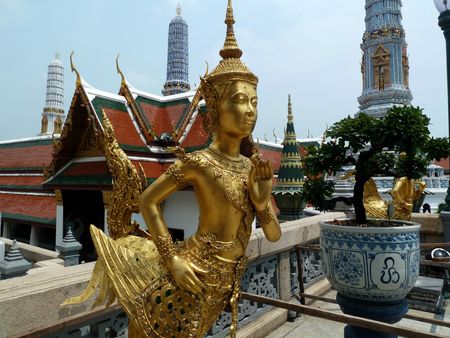 We have lunch by the river while watching the boats coming and going. For the first time, we experience food that is quite spicy even by our standards.
Bangkok lives up to its reputation. The ride home by taxi proves to be quite lengthy with traffic jams all over… Success always comes at a price!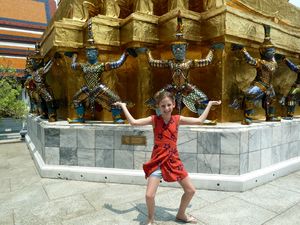 I escape, in search for a massage parlour, and end up with a super painful cure-it-all massage whilst Jeremie goes to the pool with Noemie and Zoe.
Then came Jeremie's turn for massage while I put Noemie to sleep. We went to a very nice Korean restaurant and call it a day.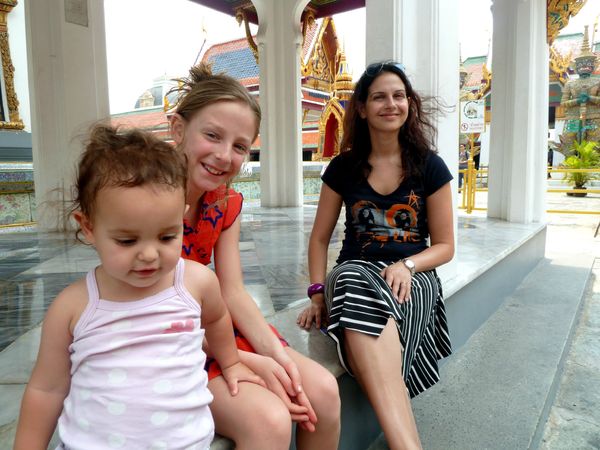 14 janvier 2013
A painful awakening at 6 am got me to the yoga class - scheduled with the hotel which turned out to be a private class; just me and the teacher. Since everyone else is still sleeping, I took the hotel bike and went for a stroll which ended up being a self-pampering session: I stopped at a beauty parlour to have a facial massage. This included a cleansing, scrub, a mud mask and – to my horror - a cucumber mask.
I come back just in time for breakfast. We then visit Wat Chian Man which is quite nice but honestly at this point we are done with temples, at least for Chiang Mai.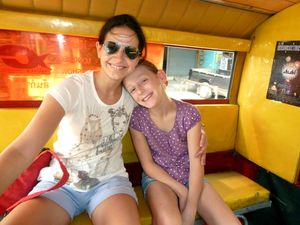 We have lunch at Zoe in Yellow. Then it is time to catch our plane.
We depart to Bangkok and upon arrival we check in at Fraser Place, a quiet serviced apartment building on Soi 11 Sukumvit. The rooms are quite large and the layout and facilities are fabulous.
It is late and already 11pm when Noemie and Zoe are asleep. We spoil ourselves to a glamorous – yet short- night out at Sirocco sky bar at LebuaStateTower with incredible views of the city and very nice cocktails.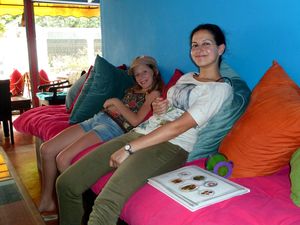 Tips:
Price of ticket Chiang Mai to BKK: 2,300 with Thai Airways.