Nara is a small town very rich in history and tradition. Japan's first real capital, it is only second to Kyoto as a repository of Japan's cultural legacy. Al though brief (in 710, for a mere 75 years) the Nara period was extraordinarily vigorous in its absorption of influences from China, a process that laid the foundations of Japanese culture and civilisation. The adoption of Buddhism as a national religion made a lasting impact on government, arts, literature and architecture.
The lady at the tourist information centre wants to make a father and a daughter happy and recommends us a student guide: she can't seem to believe that Jeremie and I are husband and wife. 'you're very young, how can you be his wife' she says with lots of assurance. No comment…
Takeo is waiting for us and speaks good English. Great! We follow Takeo and listen carefully to her subtle explanations. We visit the three story pagoda, then the five story pagoda (the second highest in Japan, both made of wood.).
We continue walking towards the Todai-ji Temple among numerous deer awaiting to be fed by tourists.
There are around 1300 of them in the area and they're almost domesticated. The long alley to the temple is tiled with different colours coming from India, China, Korea and Japan, redrawing the path of Buddhism. The big statue of Buddha dominates the temple along with apprentices, cast outs and a Buddha wanting to turn back to human. Some people are trying to pass inside a hole in a big pole: it is said that people who succeed in passing are healthy…
Nigatsu-do hall boosts nice views over the city and the different sights. Soon enough school children storm the place, and we're on our way down…
All sights are within small distance but there are some strenuous steps. 3000 metal and stone lanterns lead us to the Kasuga Taisha Shinto Shrine. With turquoise blue robes, but otherwise quite young looking monks recite prayers for a while. They are assisted by young ladies with the most astonishing looks: in bright orange robes, with hair ornaments ranging from fringes with silver decorations, to flower arrangements, and two black circles on the back. Quite hard to describe really and unfortunately it's forbidden to take pictures. If you can imagine something along the lines of 'the 5th element', that would be probably close.
Meanwhile we chitchat with Takeo about all things Japanese. Her father is actually a Buddhist monk and an agronomist. She would like to become a civil servant and promote the country side. During our lunch, we exchange views on average Japanese wages and food.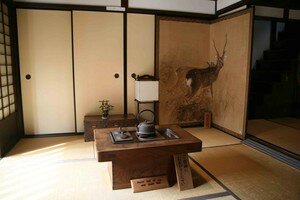 We then head to Nara's old city. A superb Mashiya has just been renovated and open to visitors. Mashiyas are the old urban townhouses that served as both residence and workplace for local merchants and tradesmen. Although individual mashiya differ to renovations made over time, representative features include the structure's long rectangular design, its narrow front, and deep interior. The reason for the long, narrow shape lies both in the fact that land taxes were assessed on the width of a house's façade, as well as in the inherent desire of local townspeople to keep an eye on the street outside.
Outside each door front, different sizes of red dolls in the form of monkeys are hanged in this part of town. It appears to be a tradition in the Kansai region. Each monkey represents a member of the family and will take the bad luck instead. Takeo was given the monkey corresponding to her ranking in the family when she left her family house in Wakayama to come and study in Nara. She did not have a bad luck since then…neither did we!
.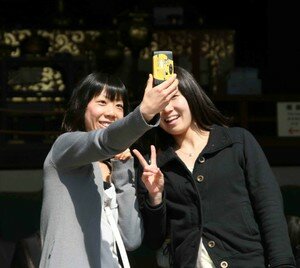 Tip of the day
There are JR trains to Nara twice per hour (690¥ one way). The trip takes 45 mns. One can buy tickets at vending machines or tickets desks. It's a breeze to take a train.
Volunteer guides (usually students keen to practice their English) can show you around. It's free service, but it's good practice to invite them for lunch. A small tourist information booth at the train station can organize that. One then needs to go to the main Nara Tourist centre (500 metres on the direction to the park and main attraction sites.)
We eat a donburi at a small joint in the city centre that was very tasty.