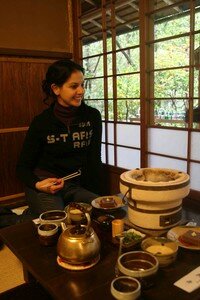 We wake up to the sound of water dripping from the trees. The small garden next to our room is soaked. Rainy day. We take our time, waiting for the rain to stop. Finally we take our umbrellas… Daitokuji temple is almost empty. It's like a small town of old houses, beautiful trees and…small temples. Stoneways aligned with fine sorts of trees and plants lead to individual houses or small temples. The rain continues without a halt and we hear prayers in the background but we cannot enter.
Shintoism is the most followed belief and philosophy in Japan. It is close to animism with a high veneration for ancestors. Shimogamo is a Shinto shrine. The particularity of shrines is that they don't have pictures or statues, but lots of beautiful vegetation, a mirror, a sword, or a crystal ball at the altar. Stones, white or black pebbles, water and trees are a common sights in the surroundings.


Japanese friends recommended more than once Yudofu (tofu cooked in a pot) as the divine speciality of Kyoto. Japanese cuisine has a lot to do with finesse, delicate manners, subtle smells and wonderful tastes. This six course lunch has it all (though we're still working on the manners: kneeling on tatami mats is not particularly comfortable). We start with sesame tofu topped with wasabi sauce, sweet miso dengaku that has an exquisite taste. The main dish is boiled tofu (yodofu) and is savoured with spices, a separate sauce and herbs. Yam potato soup (excellent), and vegetable tempura are also served.
Loads of tour buses stand waiting in front of the Kyoto handicraft centre. There are some nice gifts to be bought. We spend some time looking at the waterblock prints and paintings. I buy a nice red kimono.
As the rain never stops, we walk around in Shijo, a covered shopping street. Young ladies in micro skirts and sandals do not seem to be worried about the cold temperature or the wind. Close by, other men and women are walking in small steps, dressed in elegant kimonos and traditional shoes. Tradition meets the future in this big washing machine. For a Lebanese, this would look like an old man in cherwal from Akkar shopping in ABC Achrafieh…
Another aspect of Japan made it through a world trip: sake! Pontocho might be the place with lots of bars and izakayas lined up, but we learn that sake is for older people. Instead, on our first night out, we try casual drinks: young ladies drink cassis based cocktails (I do the same) and Jeremie tries chuhai (shochu – a distilled spirit made of potato and many other raw materials - with soda and lemon). Not really that great, so we shift to vodka orange… Meanwhile, yakitori and small delicious things are served.
.
Tip of the day
One day pass for bus costs only 500¥ in Kyoto.
Entry to both temples are free. Entry to sub temple is around 400¥ each.
Lunch at Okutan, a fine restaurant just outside the grounds of Nanzen-jiSet lunch with 6 courses at only 3100¥. Highly recommended.