.
Decidedly on our bikes, we are thrilled by the interminable maze of Nagasaki's roads. We've biked in all the cities so far except for Tokyo and found it incredibly pleasant, most parts of cities being flat. Until we got to the Dutch slopes.
We safely parked our two wheels in the neighbourhood to admire the romantic uphill roads around the Dutch slopes. There are flowers with magic colours along the colonial mansions and colourful wooden and brick buildings. This port city used to be Japan's gateway to the West. We can feel today the inheritance of the foreigners and Dutch who used to live here until today, through the architecture, the roots of Christianity and… the abundance of tulips.
The Glover garden offers a nice old times atmosphere, an interesting history of ambitious and successful men from the west, and great views over Nagasaki city and port.
Nagasaki's foreign businessmen community also included Chinese who continue to live here. We stop in the Chinese quarter for a quick lunch before sneaking a peek at the city's trademark: the 'Spectacle bridge'. It gets it names from its reflection on the river.
.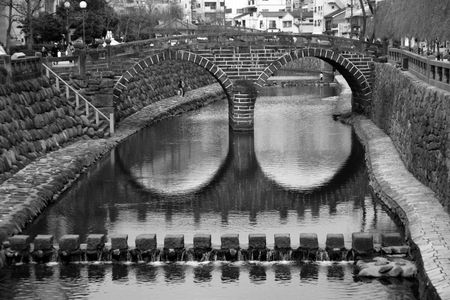 .
We're very tired physically and spend the rest of the afternoon relaxing at the hotel.
There seems to be some nice bars in Nagasaki, but finding one's way in this city is far from easy. It's difficult to get hold of maps in English and streets don't have names. Most bars seem to be close (or within) the red light district. There are dozens of "entertaining" bars with loads of lightly dressed ladies, luring businessmen to spend their hard earned money on their charms.
We look at least for an hour, going back and forth searching for places like Music Inn, Fan Fan, Zuccini, etc. but no chance.
We give up, and head towards the Ohato harbour. At the pier, there is a bar (we forgot the name but there is the word Bay in there). There are lots of businessmen, and 2 or 3 OL (office ladies as female employees are called). We have some cocktails and bar food (Meitaki) before the magician show begins. Everyone stands up and gathers, listens to the fast talk and watch a show we don't really understand, then they laugh and go back to their seats. We're in that scene when Bull Murray is in a purple looking bar and everyone is laughing around, but he doesn't understand the reason…
Tips for the day:
Train from Hiroshima to Nagasaki takes around 3 hours.
Entry fee to Glover garden is 600¥. Recommended.
Chinatown is quite small. Nothing to compare to Yokohama.
Lunch at Kyoka-en, an average Chinese restaurant in Chinatown.
In Nagasaki, we stay at Comfort Hotel, for 7,500¥. Hotels in Nagasaki are less expensive than in other cities. The Comfort hotel is not as nice as its sister in Hiroshima, but given the very little time we spend in our room, we don't care much.