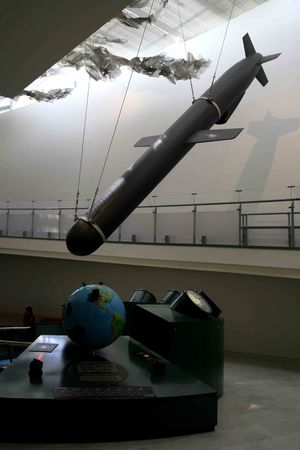 .
We ride our bikes to the Nagasaki Cathedral that was destroyed during the bombing. Ironically, the epicentre of the atomic bomb was just the cathedral in Japan's only renown Christian town. Very little is left, some statues and stones. We then go to the memorial of the bombing that is less impressive than the one in Hiroshima.
We pick up a bento at the train station and head to Osaka in the silent car train to the city that never sleeps.
Osaka attracts you immediately by its lights, skyscrapers, small alleys, and that non-stop car and human traffic jam. Jeremie had selected a list of 3 or 4 places to hang out: concert bars, night clubs and other concepts. We hit the streets motivated and all stylish looking. Then we hit another street. And another street full of night clubs on signs on each and every floor. Our eyes quickly get busy looking at names of clubs we want to go to. Even though we are going in the right direction, we just can't say where we are going. We could have tried a club for the luck but the codes are very different here and we could easily stumble on a girls club or an adapted Japanese invention that we didn't have the working manual for. By around 1 am, we manage to find one of the clubs we were looking for but it is closed! We are tired and have seen so much of Osaka's streets for one night, so we head to our mattress club.
Tips of the day
At Osaka, we stayed at Dotombori hotel, right at the heart of the entertainment district. Semi double room can be had for 9000Y. (if one wishes breakfast, you would pay a whopping 1000¥ more per person) The room is very small, it's not really sound proof.
Nagasaki museum is interesting, slightly different presentation than Hiroshima but covering same issues
Dinner at Osaka at Krungtep, nice Thai meal.