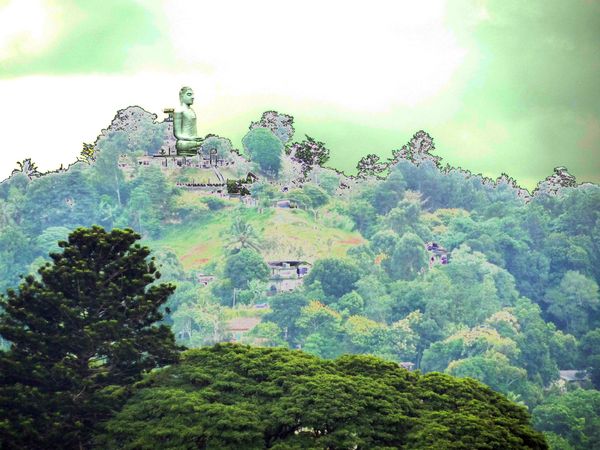 Kandy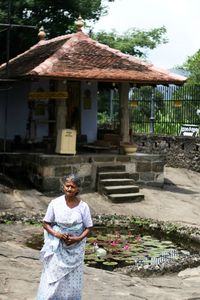 After a good night's sleep, we have our breakfast outside, on a nice terrace, in front of a huge garden. Completely recovered from the long journey and jet lag, we take off late morning for a loop in the deep countryside where we visit three lovely temples.
All the roads we have seen so far are surrounded by lush vegetation on both sides and the way is narrow which makes it difficult to picture in all the three-wheelers, motorcycles and trucks. We arrive at a first temple in Gadaladeniya. The temple is a small complex on top of a flight of stairs. Noemie is on her dad's shoulders enjoying the sight from up above.
Although the temple is nothing special for us, there is a nice feel to it with the small ponds of water lilies here and there. We end up spending some time taking pictures. Noemie walks around and is very happy to encounter Buddha again (old memories from Thailand).
There are lots of local people visiting and lighting candles and incense sticks.
After a while, we head to Lankatilake temple. We reach the temple after a hundred steps but it is well worth it. We enjoy the superb views of the valley and just see time passing by, sit in the grass and enjoy the surroundings.
We then go and visit Embekka Devale, a temple with nice carved wooden pillars
This is a Hindu and a Buddhist temple at the same time. Noemie has lots of fun visiting the small caves with all its Buddha statues. She also becomes the attraction.
Overall we liked those three temples very much; they do not have huge religious significance, nor are they stunningly beautiful, but it is very nice as they are lost in the country side, with rice paddies everywhere, and no tourists in sight, only regular folks.
We head to a place mentioned in our 1991 edition of Lonely Planet: Elephant River Side, just to catch a glimpse of elephants for Noemie but of course the place is long closed.
Nonetheless, the road alongside the green river is very nice and we stop for lunch by the river.
It would be a shame leaving Kandy without seeing the lake. So we take a boat ride. The small lake is very nice and we look around at the abundant varieties of birds and some turtles.
We walk around a little in the so-called market, but it is not impressive really. We are not terribly impressed by Kandy, so we call it a day and head back to the hotel for a quiet evening.
Tip of the day
Lunch at Honey Pot, by the river (on the road to the War cemetery). Food is ok and doesn't take too long to be served and the view is nice.
Dinner at our hotel (The Mansion). Food is okay but nothing spectacular.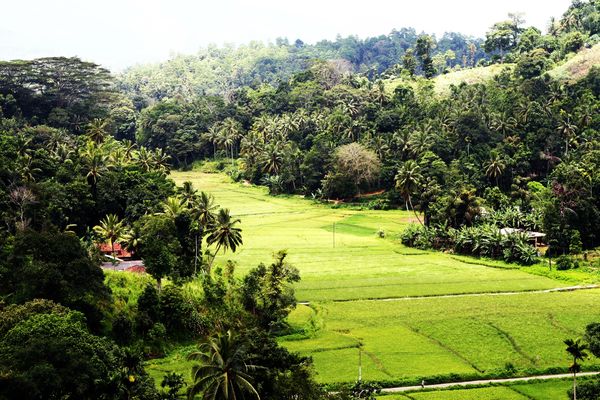 Rice paddies around Kandy