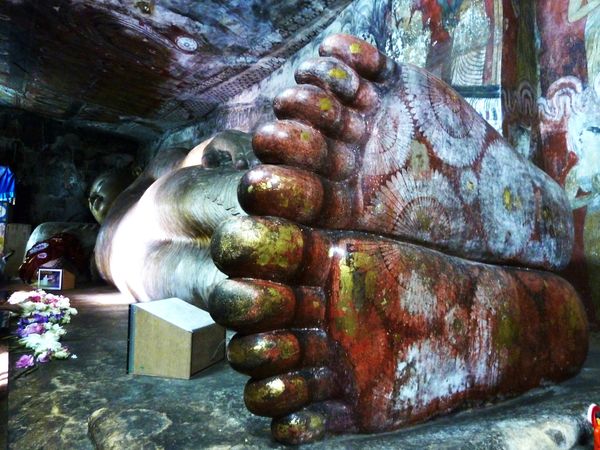 This is it for Kandy. We gather our stuff and hit the road in the direction of Dambulla and its famous rock caves. It is around 70 kms from Kandy and takes us two slow and long hours of driving nevertheless. Did I mention that our driver is not a formula 1 champion?
The place is also known as the Golden temple or the Rock temple or caves. What we did not know is that the entrance is at around 150m above the parking level and involves a steep climb (stairs mainly thanks God!). It takes us at least 30 minutes to reach the top with stops here and there to look at the monkeys playing in the trees and looking for food.
The temple is composed of 5 caves, all aligned inside the rock formation. In the first one, a gigantic Buddha lies down just by the entrance. The soles of the feet are painted in intricate designs, and so is the ceiling.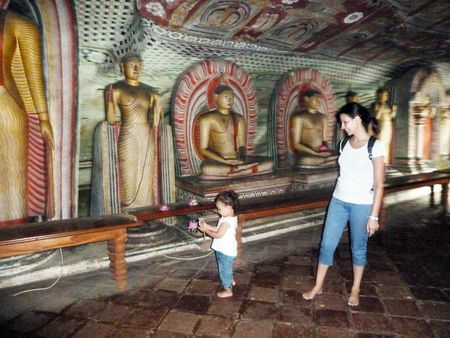 The second cave is the most impressive one. It is massive with a whole population of identical Buddha statues quietly seated in meditation. The ceiling, carved and polished at different heights and levels, is all painted of Buddha figures and other religious designs at times. There are a lot of visitors, most of them worshippers coming to pay their respects. Noemie wanders around with her flowers ready for offering but always manages to change her mind and save the flowers for the next Buddha encounter... The other caves are also nice but quite small. We spent some time in the last one, which is a bit different. The climb down, takes us barely 15 minutes. We are really happy to have visited this place; it is not to be missed.
It is already mid-afternoon and we hit the road to the resort where we have booked in Habarana. The place is spacious, set amidst the woods, by a quiet lake. The rooms are quite spacious and gracefully decorated and the bathroom is huge with a lot of earthy tones. We finish our day by the swimming pool and have a light late lunch.
Tip of the day
It takes two hours by car from Kandy to Dambulla. Dambulla temple's ticket counter is NOT at the top, but at the entrance of the site on the right. If you climb all the way, they won't make an exception and issue you a ticket! The counter is closed from 12:30 to 1 pm. The drive from Dambulla to Habarana takes around one hour.
At Habarana, we stay at Chaaya Village, US$ 130 for a deluxe room with breakfast.
This is a very nice resort, by a lake, with a nice swimming pool, and lush surroundings.