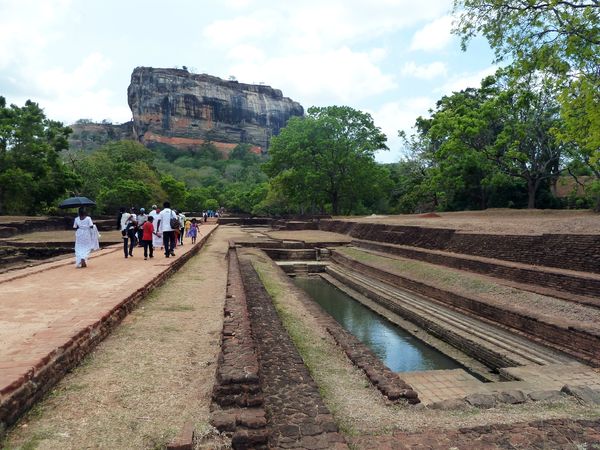 Breakfast is not a joke at our resort. It is all good and nicely presented and we are quite heavy, but prepared nevertheless to conquer the ancient rock fortress of Sigiriya, one of Sri Lanka's major touristic highlights.
It involves climbing a huge rock formation on top of which used to lay the fortress. We come prepared: Jeremie takes Noemie in the baby swing and I shall manage to catch my breath and rest as much as I can, being 5 months pregnant… The way up is mostly composed of quartz narrow steps that can prove slippery at times.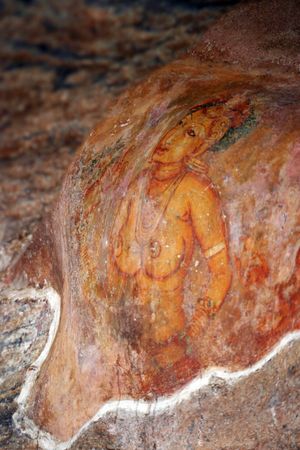 Going up becomes harder if you have to mind other people's walking rhythms and you end up tiring faster than you think. We start getting high up and climb the aging metal stairs that lead to the cave, famous for its paintings of apsaras with generous breasts.
The place is quite small and we walk on a precarious metal platform while other visitors are already on their way back. It's definitely not for people who are afraid of heights…
We climb down the stairs and continue the climb up to the top. It gets sweaty under the mid-day heat but there is a lot of wind (I almost loose my hat).
We sit for a rest and suddenly Noemie becomes the attraction of the day. Everyone have to have a picture of her or with her. We stand by as she strikes the pose for an ever-growing number of boys and girls. Then she decides it is enough of this paparazzi business and we continue our climb.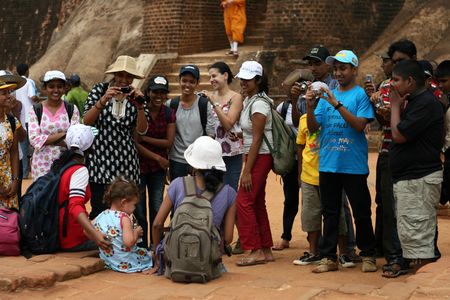 We reach the top finally after 45 minutes and enjoy the nice fresh breeze. The views on the plain and the jungle all around us are stunning, but apart from that, there is nothing much to see on top of the rock unless you have a swirling imagination. We are a bit disappointed but glad we made the effort. The way down takes us barely 15 minutes and we briefly look at the surrounding ponds before heading to the hotel for a well-deserved buffet lunch and a nice swim followed by a long nap.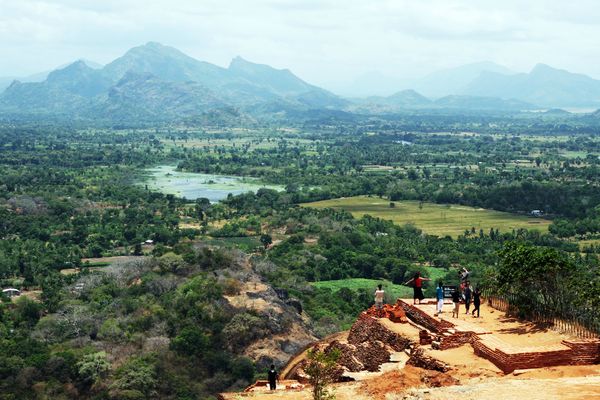 Tip of the day
The entrance to Sigiriya is US$ 30 which is a rip off considering the state of installations and the maintenance needed. It takes 45 mns from Habarana to Sigiriya by car. The climb is not difficult: it's all stairs! It took us an hour, with two long stops of a total of 30 mns.