A painful awakening at 6 am got me to the yoga class - scheduled with the hotel which turned out to be a private class; just me and the teacher. Since everyone else is still sleeping, I took the hotel bike and went for a stroll which ended up being a self-pampering session: I stopped at a beauty parlour to have a facial massage. This included a cleansing, scrub, a mud mask and – to my horror - a cucumber mask.
I come back just in time for breakfast. We then visit Wat Chian Man which is quite nice but honestly at this point we are done with temples, at least for Chiang Mai.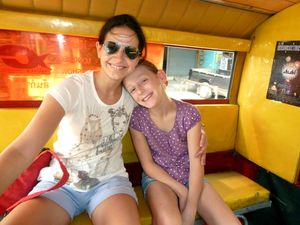 We have lunch at Zoe in Yellow. Then it is time to catch our plane.
We depart to Bangkok and upon arrival we check in at Fraser Place, a quiet serviced apartment building on Soi 11 Sukumvit. The rooms are quite large and the layout and facilities are fabulous.
It is late and already 11pm when Noemie and Zoe are asleep. We spoil ourselves to a glamorous – yet short- night out at Sirocco sky bar at LebuaStateTower with incredible views of the city and very nice cocktails.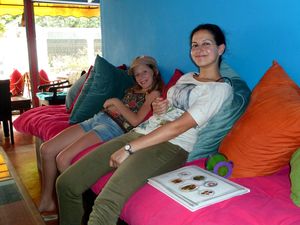 Tips:
Price of ticket Chiang Mai to BKK: 2,300 with Thai Airways.