We have moved rooms to be placed just in front of the infinity pool. What a nice feeling to wake up in serenity and enjoy simple pleasures. We have a light lunch at the pool of the hotel, after which I head out with Zoe to a cooking course for the afternoon.
We are divided in groups of 10; and we walk to the grocery market to sample all kinds of vegetables, fresh noodles and specialty ingredients. I am amazed at the different varieties and sizes of eggplant. And then the fish and smelly pastes… Zoe got sick and can't handle the overwhelming smells and sights; she ends up going back to the hotel.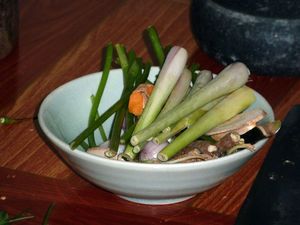 The course is a lot of fun. We learn to prepare a papaya salad, tom yam soup and I discover that Thai food is actually quite oily. At night we walked around the main streets and have dinner at a Burmese restaurant with the best passion fruit smoothie ever.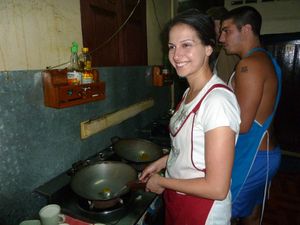 Tips of the day:
Baan Thai cooking school. You can choose between half day or one day cooking course. You get a nice little recipe book at the end as a souvenir.
Dinner at Swan Burmese restaurant next to the city gate Tha Pae. Low key, great food and fabulous smoothies.