We chose our hotel (U Chiang Mai) mainly because we wanted to take it easy and have some time to swim and relax. The breakfast is amazing especially the choices of different coffees and teas and the wonderfully prepared egg combinations.
The day starts around 11am with the discovery of neighbouring Wats. We visit at least three; all within walking distance. At one of them, a monk is almost frozen in a seating position, eyes wide open. People come and go, take pictures with him, he doesn't even blink and sits in immobile meditation to the point that some people asking around if it is a statue.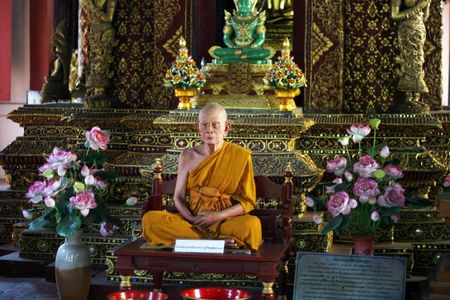 The way takes us to the monument of the Three Kings, nothing fancy in itself, but there are three young girls performing graceful traditional dances in equally traditional outfits. We sit around for a bit. The heat is unbearable and Zoe returns to the hotel for some fresh conditioned air. We continue and visit two other Wats, very beautiful ones.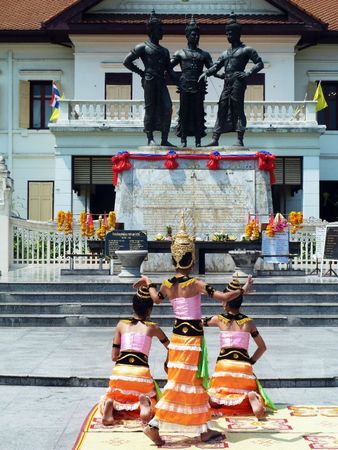 Noemie takes time to admire (and tries to catch) birds from a seller. We later learn that these small birds can be bought to be released to bring good luck. There are so many wats in Chiang Mai and you will sure visit the obvious ones, but there are also hidden gems behind walls and we discovered some nice ones this way. We eventually can't handle the heat either and go and rest and fetch Zoe at the hotel.
We have a good lunch at Hot Chili, the design is also nice.
Today is Sunday, famous in Chiang Mai for the night market: Sunday walking street. It is right outside the hotel although you could not tell from the serenity of your room. The general feeling is pretty relaxed though around 8pm the crowd becomes quite dense and it is hard to even stop as everyone goes at a steady pace. It is funny to notice at the end of each street the lining of foot massage parlours right on the street and the wide collection of foreign toes on display. There are many things to look at and to taste. We buy some t-shirts, souvenirs, and flip flops. And we taste pork skewers, coconut biscuits, and finish with traditionally made ice-cream. Jeremie tries the Durian flavoured ice-cream and is not convinced.