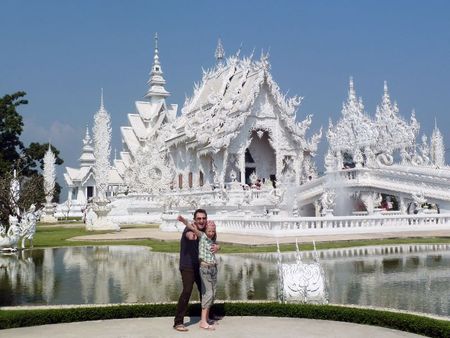 We pack our luggage once again and load everything in the car towards Chiang Mai. On the way south, 13 kms ahead, lies an out-of-this-world Wat: Rong Khun.
The architectural and artistic design is very futuristic. The outside is a glittering white produced with the help of mirror-like crusts in the never-ending sculptures.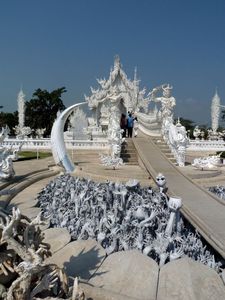 We definitely are in a movie set with star wars and monster dragons emerging from the surrounding water ponds. The impression we get must have been the same for visitors to Gaudi's structures a few decades ago. Inside, the walls are covered with new age creations and drawings of movie characters featuring Keanu Reeves in the Matrix and Star Wars. We walk around amazed. Even the fish in the water ponds are a match with the theme.
We continue our trip to Chiang Mai and after a small tour in town, we stop by a place to eat and search for a hotel. Although we had a reservation, we couldn't help but take a sneak peak into a nice place on our way and we are seduced.
After some rest and a swim, I go for a stroll in the streets around the hotel. The streets of Chiang Mai reflect the serenity of the temples everywhere. People are smiling despite the heat. After dinner, we go for a midnight swim with Zoe.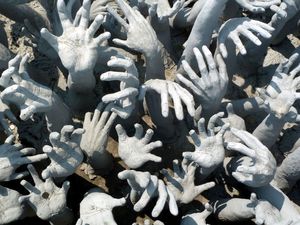 Tips of the day:
Hotel: U Chiang Mai where we get a reduced rate, at 4,250 Baht per night for a room right beside the swimming pool. The 24hour check out policy and the all day breakfast is hard to beat. On top of that, there's a nice selection of music on Ipod in the room, there's a free yoga class, beautiful designs all around, great service and you can borrow bicycles for the day.
For lunch we went to Whole Earth, a beautiful place with very nice food and garden, but I got food poisoned from what I had ordered (something in a banana leaf).
For dinner we went to Pizza da Roberto in the other side of town, Jeremie's pizza is quite nice but I am too sick to eat anything.