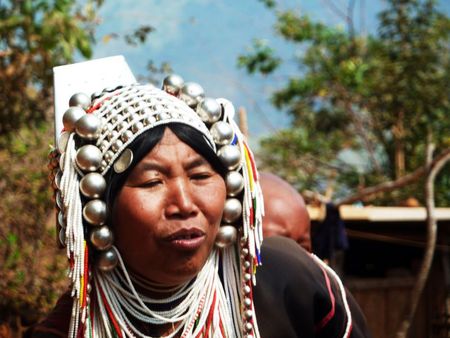 We leave early for Mae Salong, a village where many ethnic minorities live. On the way, we discover a tiny Akha village. We sit down and try to engage a conversation based on sign language. Having a young child helps a lot to break the ice and suddenly we are not intruders but part of the family. The community lives in wooden houses, scattered on narrow dirt roads with chicken running around. We had seen the Akha minority in Yunnan during our past trip in China and I can say that they look and dress almost the same. We walk around in the village for an hour and buy a few souvenirs.
Then we arrive to Mae Salong, and stop at the open-air market by the road side. It looks more touristy then the other places and we end up buying ourselves some tea and nice teapots.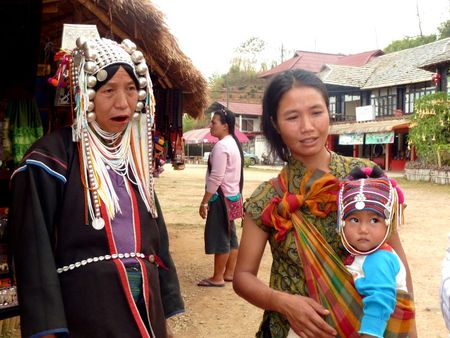 Back on the road that leads us to the Golden Triangle. It is a winding road in the mountains with nice views on surrounding scenery and rice paddies. The Golden Triangle is the area on the border between Thailand, Myanmar and Laos, separated gracefully by the mythical Mekong River. The whole area sleeps on the glory of the opium days.
We have a quick lunch then charter a speed boat for a trip on the Mekong that takes us close to a casino on the Myanmar side, and then we stop at an island in Laos, where it is a large set of stalls and souvenir shops. There are very nice antique opium pipes and teapots. Coming back to the main land, we continue to Chiang Rai and find ourselves a nice business hotel right in the city centre, very close to the night market. At night we go and explore the market and our best experience is dinner at the bazaar's main square where the food is good and we can enjoy nice live music.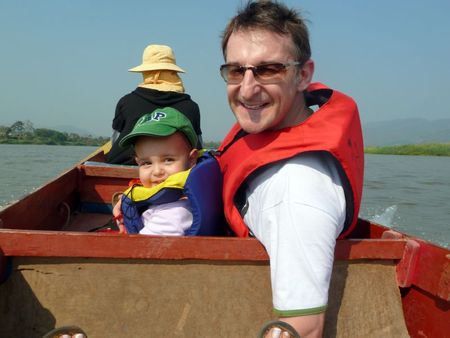 Tips of the day
Tail boat trip: 1 hour for 400 Baht (the trip in the boat takes half an hour and the rest is spent on the island on the Laos side)
Hotel Wiang Inn in Chiang Rai, is a good deal at 2200 baht per night, breakfast included.