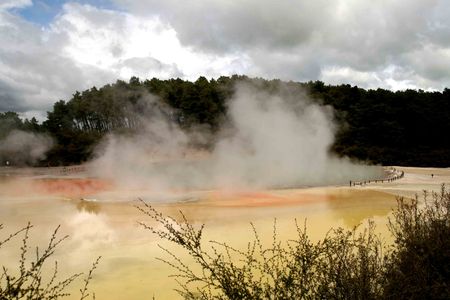 This morning, a glimpse out of the curtains is enough to predict the weather… Ok. What do we do here in bad weather? The Tongariro Alpine crossing would not be doable with strong winds and snow, and the skydive cannot be done with these clouds.
We surf our brochure-flooded campervan to help us decide on the course of the day. There are all sorts of information here, maps, activity guides, things to do under the rain, accommodation and restaurants directory. The Lonely Planet could be obsolete in this country…
We drive 40 min in search of a better weather and stop at Wai-O-Tapu, the revered Maori thermal area. At 10:25 every day, the Lady Fox geyser erupts and stays in eruption for about an hour. We take a walk among the very colorful craters, mud pools, and the devil's bath filled with yellow sulfur waters. The eggy smell fills our nose and the smell of sulfur everywhere blends with the smokes. The lunar landscapes are quite spread in the area and there are incredible pools with reds, yellows and green colors mixing.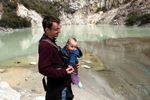 The skies are still covered and it rains non-stop. In any case, a blue sky is hidden behind the clouds. We go back to Taupo after a brief stop at Rotorua, and we ask about the weather. It looks better tomorrow, so we head to Tongariro National Park and stay at Kiwi NP in preparation for tomorrow's treck.
Breakfast at Repleto in Taupo, good hot chocolate. Lunch at Japanese restaurant.