After an agitated night (we were four in one bed with Noemie snoring continuously), we leave early to the Chiang Dao market that takes place every Tuesday morning. Ethnic minorities come here every week from nearby villages to buy and sell supplies. There is not a lot to buy except some out of fashion clothes and a lot of food. The varieties of dried fish are quite amazing, so are the fruits. We didn't have breakfast and decide to try the strawberries sold with the spices and sugar mix. An interesting taste at first but we end up fighting for the rest.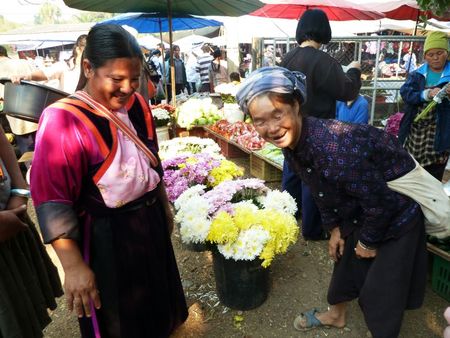 Women come dressed differently according to their ethnicity; dresses (and teeth) are quite colourful. We manage to chat with one or two characters and get some pictures with black smiles. On our way out, we pick some kind of sweet and savoury donuts from a stall, we are not sure what this really is but we also eat the whole bag.
Our next stop is the Chiang Dao cave. There are plenty of Buddha statues around, sometimes hidden in the upper parts. It gives a very particular feel to the place. Otherwise, the cave in itself is nothing to write home about. In a section of the cave, there is a movie shooting and the make-up of actors and the whole setting is amazing.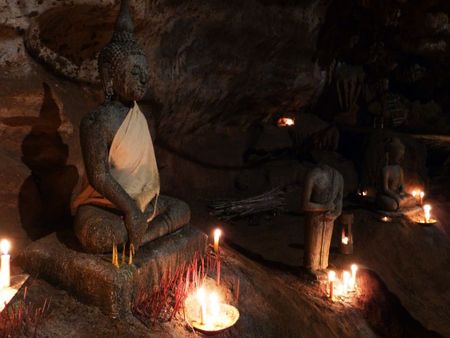 We leave Chiang Dao and head north towards Doi Ang Khang supposed to be one of the nicest summits in the area. The road is very nice with changing sceneries, but at the end it winds up a lot and Noemie ends up vomiting all over in the car, just before we get to the restaurant. There isn't a lot of choice but we end up at an excellent place, the Angkhang Nature resort where we have a wonderful lunch with a view on the mountain. Jeremie takes a dish of regional cold cuts and delicacies and I take a dish with pork meat and a great sauce. The strawberry juice is to die for. Noemie is feeling better right away and tries to charm the waiter.
Nearby there is a Chinese village, Ban Luang that we find completely uninteresting, so we get back on the road to Mae Salak. We don't find what we are looking for and finally we arrive to Tha Ton.
Noemie is now in the speech learning stage and repeats everything we say. She says all the time 'on est en Thailande!!!'
We stop at the pier and enquire about taking a boat trip to Mae Salak but instead, we decide to drive to Wawi, said to be – according to Lonely planet – a large multi-ethnic community with dozens of hill-tribe villages. We drive for more than an hour from Tha Ton. The road is nice, but we are now quite tired. Once we arrive, it is hard to hide our disappointment. There is nothing remarkable as such in Wawi or in the nearby villages that we cross.
We head back to Tha Ton and decide that we deserve to stay at the best resort in town! It is a riverside property with superb rooms. We soak up in the wonderful pool for some time.
We dine at another resort, supposed to offer the best food in town. We arrive and find the restaurant empty, but we are determined to try it: the food is delicious, Jeremie takes a grilled chicken plate with an excellent marinade and I have a whole steamed fish in a tasty broth that the waiter lights up ceremoniously. The mango juice is the best on earth (and we have had our share of mango juice in many countries of the region). A tiring day but rewarding day behind us, we go to sleep - no questions asked.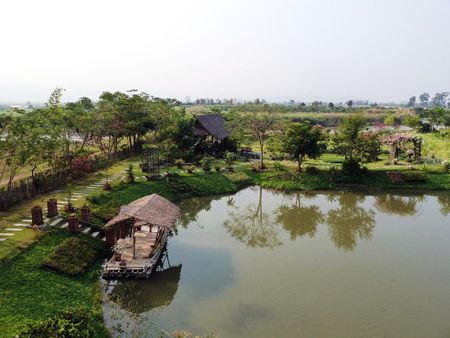 Maekok River Village resort
Tip of the day
We stay at Maekok River village resort in Tha Ton: it is a five star resort with spacious and beautifully decorated rooms are at 2,600 baht, breakfast included, which is excellent value for money.
Dinner at Tha Ton River View hotel, excellent food with a setting by the river.