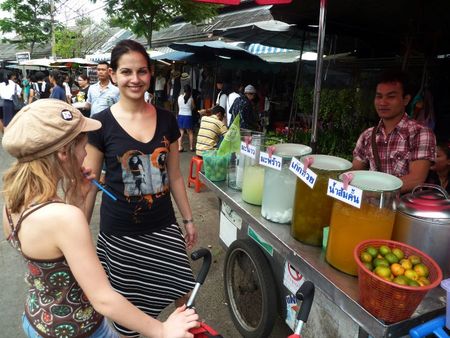 I leave alone in the morning to Chatuchak, Bangkok's biggest week-end market (over 18,000 shops) while Jeremie and Noemie go to the airport to meet Zoe who is joining us from France. Her trip went well and after a good shower, I meet the three of them at the market. I had had some time for some serious strolling (without Noemie's stroller) and shopping. The market is a maze of stalls selling all kinds of goods, from shoes to designer belts, household items and of course fresh coconuts. We pick up two which end up being a better option than the other juices on offer. It is quite hot, and after a while we stop at a food stall for lunch in the shade. We then go to a mall for some air condition and desert.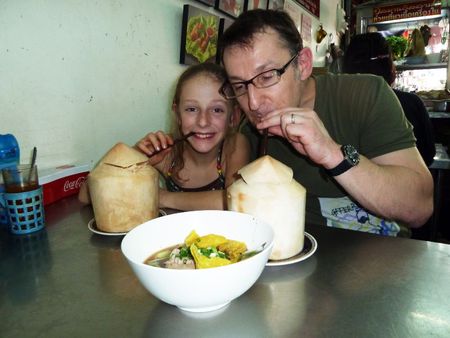 Zoe is already quite tired and jet lagged. We take the sky train and return to the hotel. We all end up in the swimming pool, for some fun and relaxation with the girls. During bath time, Jeremie goes for a Thai massage, but comes back almost in pieces. The art of torture is not for everyone…
As soon as the girls are asleep, we go to Khao San Road, Bangkok's backpacker paradise. There's a nice and cheap night market, lots of lively attractions around. We settle for a nice bar with good food and live rock music. We come back slowly (and tipsy) to the hotel and find the girls sleeping tightly.
Tip of the day:
The week-end market is divided by sections, there are around 23. There are maps of the market with a brief description of the main specialty of each section.