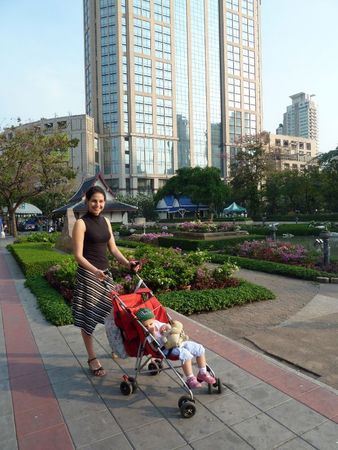 Afternoon flights are one of the greatest inventions. You spent a few hours at the office thinking about the trip ahead and how someone else will have to worry when receiving the 'out of office' reply…
The plane to Kuwait is almost empty and we can lie down and relax. We now know you should do that before arriving in the developing world's worst airport. It is dirty, ugly, with no place to change the babies, or other facilities. Even worse, we have plenty of time to kill (5 hours) and may well get killed by the little vehicles carrying lazy travelers down from one side to the other of the only lane at the airport. Noemie doesn't care, she's playing all around amidst people that seem to be coming right out of comic books. The flight to Bangkok is full and Noemie discovers a new passion for closing (and reopening) safety belts … on all seats! She then sleeps tightly in her bassinet for the rest of the flight. We couldn't sleep and it's probably the first time in history we don't even watch a movie.
The arrival to Bangkok is all smooth. Half an hour later we get to the hotel, have a two hour nap and go and discover the area. We start wandering around in Sukumvit and walk around in a park where Noemie runs around after other kids. We pick some skewers from a food stall but the taste is not too convincing. As we walk around, Noemie falls asleep in her stroller and we take advantage to try the first massage parlour while she's snoring not too far away. At the end of the session she's already awake and crawled next to me, imitating the masseuse and doing the same moves on her 'Titi'. For those of you unfamiliar, Titi is her beloved little duck toy. Night is falling, we put Noemie to sleep at the hotel and head to Soi 7 where Jeremie searches for a food court where he used to eat several years ago. We eventually find it and have big oysters and nice dishes. There is a no frill night market in this area. Then we go to the Nana area (Soi 2), one of Bangkok's hottest places, especially a square surrounded by 'go-go' bars on two floors. Downstairs, there are some concerts going on (more like people very good at karaoke) while very un-dressed girls (most do not really qualify to this description) are dancing around and shopping for guys. We have a round and sneak peaks at the bars on top. Then we decide to call it a day.
Tips of the day
*Taxi from the airport to Bangkok: 300 baht (toll included) towards the city centre. Ask the driver to put the counter.
* We stay at Hotel Citrus, at Sukhumvit, soi 22. It's a medium size hotel, very funky design. The room is of a decent size with a very nice bathroom and wardrobe.