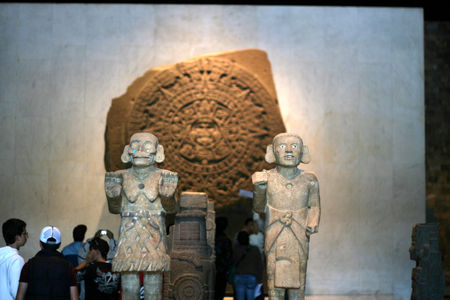 The Museo de Antropologia is perhaps one of the best in South America and arguably in the world. We spend the morning hours going from one exhibit to another but it is impossible to give all of them the importance they deserve. It would take days. On our way out, we sit around and wait for an amazing dance ritual in front of the museum: an Aztec dance, very brave guys perform while throwing themselves from a tower holding a thread between their legs… quite complicated to imagine.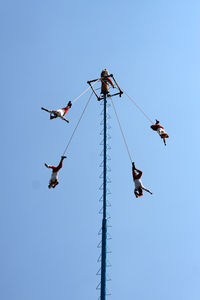 A stroll in the park of Chapultepec and the adjacent zoo, Noemie is in bliss. She calls all animals 'chien' and is amazed by the monkeys.
We come back slowly at the hotel and en route have time to buy some mexican DVDs on the cheap.
For our last night, we wanted to go again to the Miralto, but this time for food – and of course the view – and both were great. Tomorrow we leave and we have all our packing to do and we decide to gently dissolve the wine in the walk towards bed.
Tips:
A nice buffet lunch – or a la carte – is proposed at the Museum of Anthropology. It is quite convenient as you can continue later the visit of the museum.
Dinner at Miralto – again: I had the shrimp bisque soup and the duck a l'orange with pumpkin puree which were just excellent. Jeremie had tuna carpaccio for a starter and an amazing grilled tuna in ginger and sesame and finished off with a nice crème brulee. The restaurant does not come expensive especially with the romantic piano sounds and the incomparable views.