Coyoacan is not as close as we thought. Completely different from where we have been so far in Mexico. Its green pleasant streets and nice plazas put you at ease. The Museo de la Casa Azul is our main destination. It is cosy and has a homey feel, but we find it a bit disappointing in terms of the importance and number of paintings while a lot of non-important things are on display.
Before lunch, we pass by the notorious Mercado de Artesanias la Ciudadela: a maze of shops selling tutti quanti from all over Mexico where we pick a nice threaded rug and some other souvenirs.
After all this walking and bargaining, our eyes and feet drag us back to the hotel where Jeremie and Noemie have a well deserved nap and I escape for some selfish shopping time.
At night we wander around in the up-market Polanco neighborhood and settle for an Argentinean restaurant.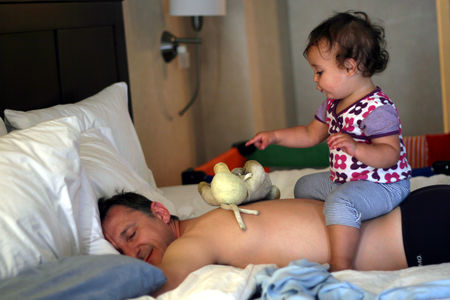 Tips:
We had a quick, cheap – and disgusting – bite at the only food joint inside the Mercado de Artesanias.
Dinner at Cambalache in Polanco: Argentinean parilla style where generous portions of good meat are on offer.