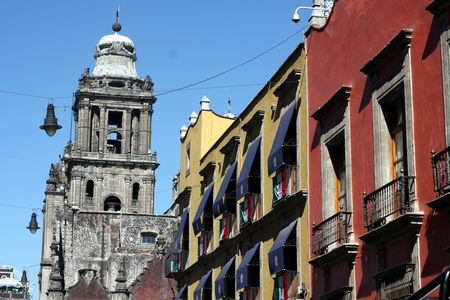 We do not want to start with hardcore busy Mexico and choose the more fashionable areas of Roma and Zona Rosa. We spend easily three hours walking street by street looking for the so-called hype stores, galleries and fashion but find very, very little; that adds to inaction on the streets. After a break, we also go to Condesa to find the same dead streets, except a few nice restaurants, but definitely not what we expected as opposed to the stylish and trendy reputation the neighborhood has earned.
Ok maybe at night then…
At night, we walk to Plaza Garibaldi where mariachis gather after the end of their evening and play songs for passers by and clients at cafes in return for a few pesos. Costumes, black, white or red come with all the artifacts: nails all along the legs, beautiful ties, Mexican or cowboy style sombreros, with the assorted ever shining shoes. We sit at the terrace of one of the restaurants and get something to eat and a tequila sunrise. Soon enough, mariachis come and ask us if we would like a song. Two neighboring tables have already bands playing for them – different songs, different rhythms – and we can't decide where to turn our ears J. On one of the tables, two men in wool ponchos are sitting close-by chattering intensively all night without a pause, except for sips of beer (many empty bottles are left empty on the table) - while the mariachi play song after song for them. We walk also on the way back and are proposed an entrance at many sleazy bars which we decline hastily. Back at the hotel we actually read some reviews and find that it is not so safe to wander around or walk near Plaza Garibaldi. Anyway, now that I think about it, I didn't feel insecure at any point.
Tips:
ETN feedback: our first long ride with ETN was from Zacatecas to Guanajuato which we found amazing in terms of cleanliness, facilities and professionalism. Not this time, the driver was quite unwelcoming, put loud music at all times (and did not stop when we complained that it prevents our child from sleeping) and smoked cigarette after another. The toilets were not clean and stopped functioning at some point.
In Mexico, we stayed at Hampton Inn hotel, an amazing location for an amazing hotel in terms of service, cleanliness and facilities which include a free guest laundry room, free local calls and all day coffee and tea available at the lobby. What's more, the staff are patient and would do anything within their means to keep you happy.
In Zona Rosa, we passed by El Dragon, a Chinese restaurant reputedly good but found it dark, empty and dodgy so we chose elsewhere. We get lunch in Zona Rosa at a Japanese restaurant called Tokyo with not so good but cheap fare. We have dinner at a terrace facing Plaza Garibaldi, regular, no fuss Mexican fare.