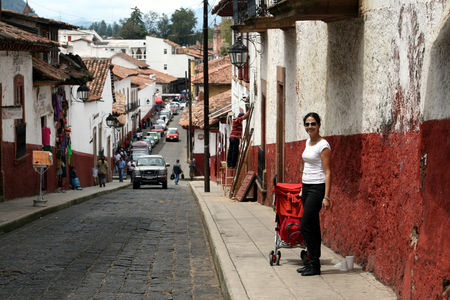 Initially we wanted to stay in Patzcuaro instead of Morelia. The long route there as well as the raving reviews about Morelia dissuaded us and we chose Morelia instead. But still, we have plenty of time and we are not in a hurry to arrive in Mexico. We depart early to Patzcuaro and are pleasantly surprised with the different architecture and colors. Tiled roofs ornate white and dark red walls where all signs are written in red and black.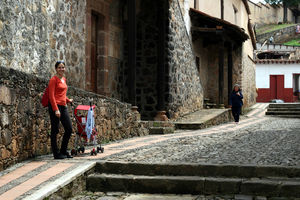 The streets resemble somehow to some parts of Nepal. We arrive to the main plaza and wander around in the streets, enjoying the sunshine and the many crafts on display in shops and on sideways. We squeeze into the narrow market streets where typical products including avocados and all kinds of chili peppers are on sale. I try a cup of freshly cut mango fruits. The lady asks what I want with it and I ask for the choice of additions: chili, lemon, salt and cheese…Mmm a bit cheesy to my taste, I say only lemon to the disappointment of the vendor who desperately wanted me to try chili.
We spend some more time visiting the House of the 11 patios which is nicely preserved. The second plaza is also beautiful and we spend some more time chasing dogs and pigeons for Noemie to play with.
Although Patzcuaro is known for the beauty of the lake, the ambiance and the beauty of the streets was sufficient for us and we decide to leave not too late for Mexico. Arrival was pretty smooth – unlike the ride – but the crowds have suffered much partying on the week-end and most restaurants are closed on Monday nights. It's already 10pm, Noemie is asleep and we only find a joint on Calle Madero. We settle for hamburgers and call it a day.
Tips:
There's a very convenient left luggage facility at Morelia bus terminal which allowed for a quick trip to Patzcuaro and a quick departure right from the station to Mexico City. The prices are 13 pesos per luggage for 4 hours; luggage can be left for more than 24 hours as well.