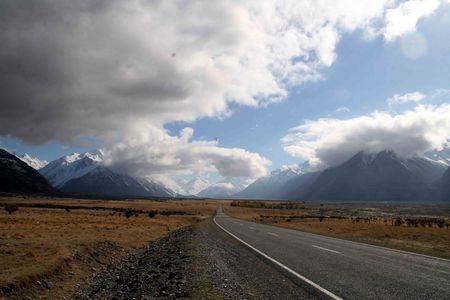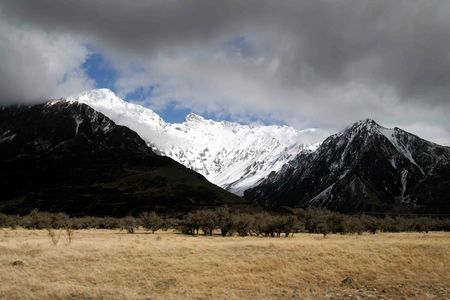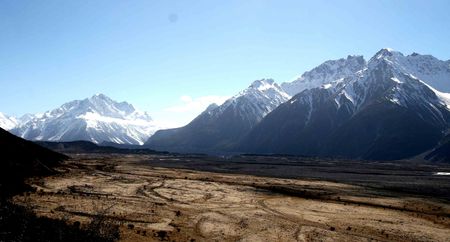 Morning feels like dawn as the mist covers the lake shores and the surrounding mountains. Noemie is still sleeping so we get out and have breakfast in the meantime. It's very cold outside.
We take the road to Lake Pukaki. From there we could not see Mt Cook yet but the clouds were clearing up. So we take the one hour road to see New Zealand's highest peak. The scenery along the way is stunning. I could hardly find words to describe it, but it goes like this. The road crosses a large valley surrounded by tall brown mountains covered with snow and in front is Mt Cook, all white and majestic with the wind throwing dust amidst patches of snow. Wow. We stop every 10 min to take pictures, but they fail to convey the splendor.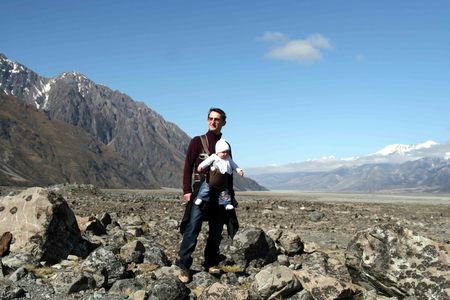 On arrival, the sun is shining. We had missed the boat trip to see the glacier. Instead we take a hike in Tasman Valley with Noemie in outdoor gear and sunscreened. The walk is enjoyable but the end scenery at the lake is disappointing. We take our car and head to Hooker valley where we get up close and personal with Aoraki, Mt. Cook's Maori name.
We take the direction of Queenstown and stop at Oamara for lunch. The clay cliffs there are nice, but apart from the great landscapes surrounding the route, not worth the trip. We pass through otherwordly landscapes at Lindis Pass. The mountains seem to be covered with a big cloak of thin cloth that gives it very soft and silky shapes. How come this is not in one of the Lord of the Rings battles?
We continue via Cromwell and arrive in Queenstown at dusk. By the lake - again?? - Noemie takes her bath. I cook dinner matched with some good Kiwi wine. We pass the night close to the Queenstown Gardens. In the morning we are awaken by 'you should get moving guys, not allowed to park here'. Damn, we thought we were on vacation…
NB: Noemie says 'Mama' for the first time tonight. Dad is jealous…
Tips:
Not very easy to find a place to park the campervan in Queenstown.
In Oamara we have a quick bite at 'Wrinklie rams'. Not terrible.