We wake up to a white Takayama. In the room it's hot like a sauna bath and we could hardly believe when we open the window that it has been snowing all night. It takes enormous will to get out of bed and walk to the morning market at Miya-gawa. The town is really small by Japanese standards and we walk around quietly to discover one sight after the other. The ticket for the Takayama Yatai Kaikan with festival floats is really overpriced unless you're really interested in Matsuri (a traditional Japanese festival). The museum is quite disappointing. However, it includes entrance to the nearby Sakurayama Nikko-Kan with miniature models of Nikko shrines very neatly displayed.
.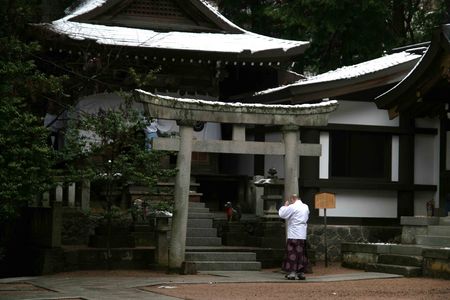 Sunshine is back and the melting snow is dripping from the tiled roofs. We take a walk in the traditional streets, and have furtive looks inside the alleys and houses. The sunshine is gone again and it starts snowing. We take refuge in some sake breweries and sample various kinds of sake…at 10 in the morning. The only sake that lasts longer than 3 months ends up in our shopping bag. (sake doesn't last, once a bottle is open, it should be drunk within a week, a month maximum) To recover from the sake taste, we drop in the next merchant house and taste a good miso soup that warms us up.
We go back in the street and we can barely move our fingers from the cold. We take refuge again in a good restaurant where we taste the famed Hida beef in sukiyaki style. It's still snowing. This is as cold - and as rural as it gets for us in Japan.
We hop on the next train to Hiroshima and have a big nap on the last train section. On arrival, we haven't even decided where to sleep or how to get there. With the help of a very nice gentleman, we get to destination and even have a bike ride around the city and take a quick look at the Atomic-Bomb Dome – the hypocenter of the atomic bomb on Hiroshima - lighted from the inside.
Tip of the day:
Country Hotel Takayama, just facing the station at 11,000¥ the double room including breakfast is a no frills business hotel. Breakfast is included and is just ok.
In Takayama, we have a sukiyaki lunch at Suzuya restaurant with great thin Hida beef slices.