.
Early in the morning, Tsukiji market hosts an incredible daily action featuring fishermen, wholesalers, workers, fish specialists and around 15,000 of Tokyo's restaurateurs. The unlucky hosts are the 450 products of the sea which will begin their road to agony on these grounds: tunas, salmons, crabs, clams, eels, squid, seaweed, lobsters, you name it, it's there. This is no secret, Japanese are fond of fish and sea food. We wake up early and are immersed with the stench under a light rain. Small motor carriers are circulating at high speed, heavy with white polystyrene cartons containing sea products.
From stand to stand, we are amazed at the number of different fish on display. Tuna comes in big frozen blocks from which only the finest parts will be eaten raw. The rest will be sent for packaging and sold as tuna cans. Most of the fish are still alive though. Workers catch them from fish tanks, make a small cut behind the head and with a small metal stick inserted up and down across the spine, carry out their paralysis. They are sold and get to the restaurateurs still alive, but harmless… we witness as some bigger fish do not give up easily and manage to cut their slaughterers.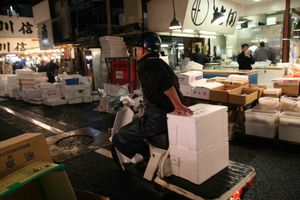 There are also big aquariums crammed with fish looking at their fellows being butchered. Soon enough they will be all transformed to expensive sashimi or sushi sets in Tokyo's finest restaurants. Waking up early to observe this highlight of Tokyo, we miss breakfast at the hotel and had planned to have a fresh sashimi breakfast as recommended. Instead, this whole show leaves us nauseated and feeling horribly sorry. We stop for hot coffee and cookies to recover.
Tsukiji is right next door to Ginza - Tokyo's 5th avenue. As usual, there are lots of shopping malls with the most eminent brand shops we have ever seen. The Sony building has an amazing range of new high quality audiovisual technologies. We have a great time trying all the nice stuff. Another great architectural structure is the Tokyo International Forum, with very futuristic style. We have lunch in one of the nice restaurants inside and get to see a huge number of young ladies in full kimonos, nice hair styles and make-up. They are all very excited, moving around, taking pictures with each other. We take a few (indiscrete) snaps. On our way out we find out from the information office that they have just graduated and it's a gathering for handing their diplomas.
.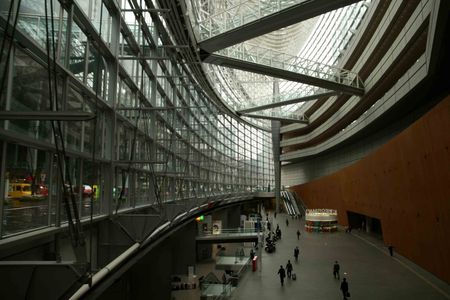 We're pretty tired, but we nevertheless explore Akihabara on our way back to Ueno. This is known as the 'electric city'. All kinds of appliances can be found there. We land in a completely different part of Tokyowhere tiny shops selling everything from the electric plug to the latest laptop technology. Very big shopping centres are scattered here and there and stuck all kinds of gadgets and futuristic toys. We gaze in front of the tiny laptops and other computer inventions but unfortunately the electricity voltage is not adapted for usage outside Japan.
We get home exhausted in need of a hot bath.
Tip of the Day:
Tsukiji market is best visited early morning, around 7 AM is said to be best, as there are still a lot of action going (many sellers are there). Past 8 AM, not much is happening.
Don't expect much bargains in Ginza. All expensive brands are in this neighbourhood. Nice art galleries though.
Sony building is great to visit, even for non-geeks. Opens at 11 AM. In Sony building, one can also buy any ticket to No plays, Kabuki, concert, etc.