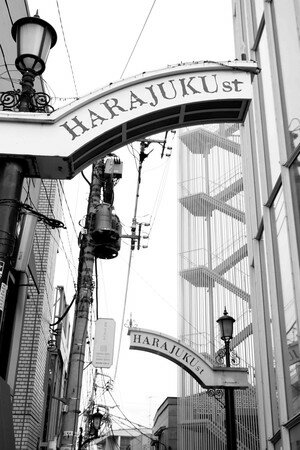 .
On Sundays - and today is a Sunday - a most incredible crowd gathers at Harajuku – one of Tokyo's districts. We've seen some pictures of gothic boys and girls with heavy make-up and funny hair styles. On search for the famous Cos-Play-Zuku (teenagers bedecked in goth make-up, a mixture of SM queen arch-vamp, black taffeta, blue lipstick and cartoon nurse exaggeration), we run through a wedding ceremony celebrated in the heart of Yoyogi park, at the entrance of Meiji-Jingu temple. The bride and groom are walking at a steady pace, guided by the photographer, and the bride's mother. The groom is very elegant in his traditional outfit and the bride wears a heavy bridal kimono and what looks like a traditional hat. None of them is smiling and a lot of attention is on the photographer and the bride. The way she walks, holds her kimono and where she's looking.
.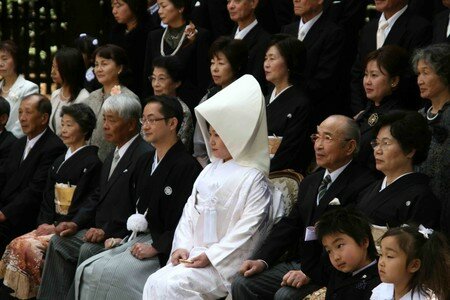 After a few photo shoots, the whole family stands in a very formal fashion for a general photo in theatre shape. A whole show begins very quietly and meticulously: a make-up artist retouches the bride's make-up, her mother rearranges her kimono and the traditional hat in a triangular shape, children's hair is retouched by their mothers, the groom readjusts his glasses and his seating, the photographer then instructs everyone to rearrange their ties and eyeglasses in an orderly manner. What I find really missing is the smile on people's faces. Even the photographer seems to neglect it.
Far from this very formal ambiance, we merge with the crazy crowds at Takeshita-dori. Young girls in unbelievably cared for outfits and looks are wondering around, happy to pose for Jeremie. Barbie style, gothic style, bunnies, punk fashion. Most boys wear chains, tight trousers, shiny accessories and hair that comes in very eccentric chic and colours. This unusual Halloween party is a not so holy ritual. The themes represented are highly unconventional to us and could be an identification with Manga characters instead of traditional Japanese role models such as geishas, samurais or ninjas.
.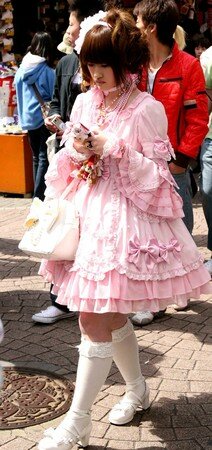 The Audi Forum is our next stop to see great cars and a cool panoramic elevator. Jeremie has been a fan of the Audi TT for quite some time until the day he tried it and knocked his head on the hard top.
We then take a walk in the Shibuya area; full of interesting spots and hosting the world's busiest pedestrian crossings. Centre Gai is a very animated street with game centres, shops, restaurants and fashionable teens. On nearby hills are one of Japan's extravagant and unique inventions: love hotels - where rooms can be rented by the hour or for the night but with very different themes such as Caribbean, Venetia, Paris, jungles, and, I'm sure, very innovative funky gadgets.
For the rest of the day, we wander around from one shopping mall to another, in what seems to be the world's highest concentration of shopping centres. We visit 109 men that has great fashion stores, Laforet - full of Japanese fashion designers and Tokyu Hands that has everything for the house, from repair to design and also a lot of useful gadgets (still stared at like inventions by non-Japanese).
Tip of the day
We have lunch in a small restaurant underground, that one can find everywhere in Tokyo. Very decent meals at very decent prices (meal around 1000¥)
Shopping at Shibuya is great. With Harajuku, it is certainly the best place in Tokyo for shopping.