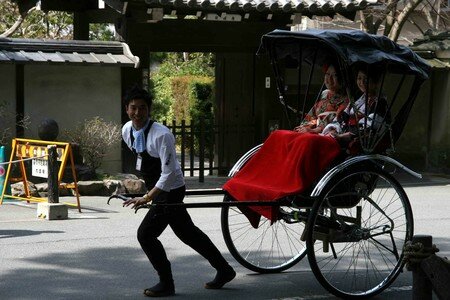 Mrs. Tani has prepared fresh little green bread-like bums on the table. My guessing bite uncovers a dark brown paste on the inside. Strange funny taste I thought, but managed to finish it. Black bean paste and jams are widely used here with what we think is green tea bread. Bottoms lightly sore from yesterday, we ride our bikes along the water canal.
Ginkakuji temple is under renovation and we're only able to enjoy the vast and well maintained garden. Workers are busy modelling the white sand in waves and not so obvious shapes. Others are busy delicately cleaning… the moss around the trees! As we go over a tiny wooden bridge, Japanese worshippers are concentrating on what seems to be a wish making coin-throwing practice. The water next to the small holed stone is full of unlucky small coins. Small candles are free (for a 'donation' of 50¥) and are displayed in small rectangles with specific purposes indicated on top: for curing cancer, happy marriage, winning lottery, finding jobs, and whatever else you may want to wish for, though some wishes like good health come at a higher price (suggested donation)…
We follow the Path of Philosophy along the canal and the trees in blossom. Very charming neighbourhoods are on the way. Honen-in temple is on an ascending rope and is a quiet place to stop and wander around.

Outside Nanzen-ji temple we notice two geishas on their way out of a nice restaurant. We follow them as they ride in a kind of rickshaw pulled by a young man in special shoes. Two other geishas are walking nearby. Time has stopped. Our foreign eyes observe them like little pieces of lost tradition.
Nishiki Food market is not as big as we expect it to be. All sorts of fresh fish, shells and strange seafood are helplessly lying on the stands. Some stalls are specialized in pickled everything, a lesser known Japanese speciality. The shops selling sweet delicacies are also full of visitors trying new cinnamon, sesame, black been or green tea sweets.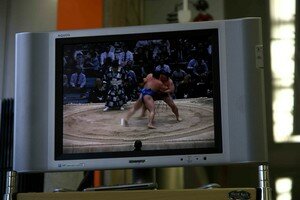 As we await our turn to change money at the post office, we watch a sumo match on television. Impressive how they can lift each other with so much power!
We let our bikes rest a bit as we take a walk through Gion. We notice a bright orange structure that turns out to be Yasaka shrine on a special evening. Live food stations with innovative preparations are lined up. We try tako-yaki - octopus filled balls with heavy brown sauce topped with pinky things similar to wood dust. Caution: don't eat it very hot! Further up the stairs is a lantern and ikebana festival that attracts a Japanese and foreign crowd. We wander around and observe the whole scenery. On our way back to get the bikes, we curiously stop at a 'pachinko', one of the most popular pastime in Japan. The sound, lights and smoke strike us. The eyes of the players are concentrating on the different noisy games, behind them, buckets full of small metal balls they reach out for blindly. Our senses are aggressed and we hardly hear ourselves. Here we are very far from the zen-style Kyoto…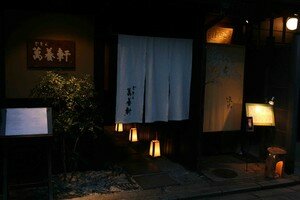 Tip of the day
Lunch at Kane-Yo, where we try Donburi set of unagi (eel) with rice. Cheap and very basic. Nothing to write home about.
Money can be changed in banks in Japan (all offer the same rate with no exchange commission). Banks close at 3 PM . One can also change money at the Post office, just outside Kyoto station (close at 7 PM)