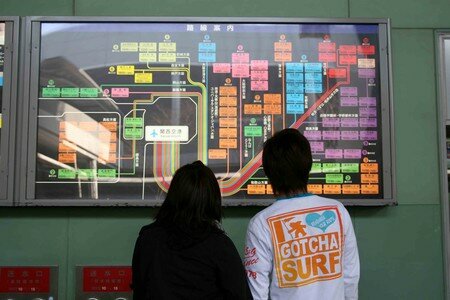 .
The schedules of the past few days were very full: I was in Amman for a week and came back only yesterday while Jérémie was busy preparing and choosing designs for our house and garden with the different people supposed to carry out the works. We barely had enough time to pack and close the house. We were both working until the last minute and then a phone call: 'are you ready?' Next thing we're on the plane but our minds still so busy and a feeling of having forgotten something… that we're going on holiday in JAPAN!
The flight to Doha takes a bit more than two hours. Four hours waiting in Doha makes for our first encounter with a large Japanese crowd and fashion. Middle aged ladies stretching constantly, young men with all kinds of gadgets, and precious little ones: one common feature – all wearing nice comfortable sneakers. Our flight from Doha to Osaka takes 9 hours. The plane is not full. The aircraft is super modern with great in-flight entertainment which makes us forget that we need to prepare for our arrival in Osaka as aliens on earth. Everything in the plane is extremely quiet. We are lucky as we can get an exit seat and catch some sleep. Green tea noodles with soba sauce and many other little things are served. Jérémie has to ask the waitress what goes with what (he was about to mix salty things with the dessert…). As we start our descent to the Kansai airport, a strange landscape unveils between the clouds. Rough brown mountains surrounded by plains, rivers or water. Islands. Lots of them. The biggest are connected with long bridges. We follow the crowd outside. It's all quiet. We get to the bus departure gate and a first look at the map of the bus route suddenly has the effect of an alarm clock. Wake up, you're in Japan. When we see people line up in two different rows very quietly, we understand we have to do the same. The bus leads us to Kyoto where we catch a city bus to get to our guest house.
After settling in our tatami room, the owner offers us some tea and biscuits and leaves us alone with no instruction manual. How does the hot water work, which is the on button on the heater, how to prepare our Japanese beds… a mountain of futon, blankets, sheets and pillows. It's not long before we figure it out and head to bed to recover from this long journey.
.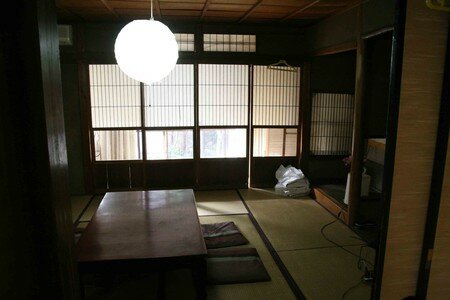 Tips of the day (Kyoto)
Our bad luck for this trip: the US dollar never got so weak. It is being exchanged at less than 100¥ for 1 US$. (150¥ for 1 €)
Tickets from Beirut to Osaka for US$1070 (around €750).
Bus from Kansai airport (the International airport for Osaka and Kyoto) to Kyoto takes 90 minutes. Tickets are bought outside the terminal and cost 2,300¥. The journey is all through a motorway and all you see is buildings and concrete. The bus drops you at the Kyoto station.
We go to the B platform and catch the bus 205 that leads us to our guest house, based in the north-west of the city (in front of the famous Daitoku-Ji temple). It takes us 50 mns from the bus station to our guest house. We also could have taken the metro (stop Kitaoji) but it would have involved a long walk, so not really useful.
We stayed in Tani House (8 Daitokujicho, close to Daitokuji temple, tel:075-492 5489). It is a bit far from the city centre, but it is a typical Japanese house. We had booked a Japanese style double room with bathroom, at only 6000¥ the room (basic breakfast included). Which certainly makes it one of the best value for money place to stay in town. If you're looking for a genuine Japanese feel, this is a good place to stay. The owner is an old very nice Japanese woman, who speaks English (speak slowly though so as to make sure she understands all you say) Our room is definitely not small by Japanese standards. (but not terribly clean either…) Kyoto being very touristy (the city hosts 50m Japanese tourists per year), you should book your accommodation at least 3 weeks ahead.