A huge breakfast awaits us before heading to the swimming pool. We then chill out by the magnificent stretch of beach and go kayaking to a nearby fishing village probably dislocated from Sokha Beach when the resort was built.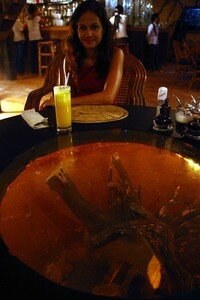 Dinner was an interesting experience in the Snake House. This (Russian!) restaurant's owner has a non-negligeable and scary collection of snakes from around the world; all are carefully displayed in glass columns around the dining hall with their scientific names and all. The table lit up, and a nice big sized snake was looking at us from under the glass and between the dishes. We stroll around to explore the collection: vipers, cobras and huge pythons abound, laying harmless in their glass houses. In another showroom, incredibly beautiful parrots and other birds are sadly peeking at you from their cages.
Tip of the Day
Dinner at Snake House. Great setting. Food is good and fast.
A motorbike ride from Weather Station Hill to Seredenpity Beach is 1-1,5 usd.
Motorbikes and Tuk tuk in Sihanoukville are a major rip off. Way more expensive than Phnom Penh and Siem Reap, with no reason except that only tourists are around and thus should be ripped off. Tuk tuk drivers team up to ask for ridiculous prices (4 to 5 usd for a short ride) and because some tourists seem to accept this, they aren't willing to negotiate. Motorbikes are the way to go then. A short ride should be 2000 riels. A long one between 1 to 1,5 usd. Add 2000 riels more for night rides or if it's raining heavily.