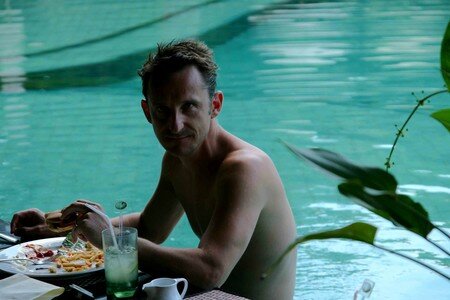 .
First thing to do: change hotel. We go for the top end option since theft is a common issue in Sihanoukville and hotels offer basic, backpacker oriented accommodation. We also need to be able to leave our laptop and camera equipment in the room without further concerns and enjoy the beach.
If the hotel didn't have all the facilities attached we could have spent the whole day in the room as the weather brought heavy rains. Thankfully with the fitness centre, the spa and the huge common space, we have something to do. We have lunch in town and wait for one hour to get a not so tasty meal! It rains again heavily but we decide to walk in the market: it's not tourist oriented and could be interesting to visit if you have well trained, foul-smell tolerant nostrils. Or you could just skip the food section and its surroundings.
It continues raining non-stop for the whole day.
We go out at the only nightclub in town (hey it's Saturday night!!) the city is quite dead apart from that.
We go out at the Blue Storm. Plays lots of Asian tunes. If you drink beer, you are okay. Otherwise, I am afraid the choice of alcohol is pretty limited.
Tip of the Day
Sihanoukville is a disappointment when it comes to accommodation. Of course the main attraction here is the beach but accommodation on the beach are either very basic (even the so called 'mid range') or top end. There aren't bungalows on the beach, and those who claim they do actually have basic bungalows overlooking the sea but no sand beach then.
Since we want to enjoy our stay here, we opt for the top end option and stay at Sokha Beach Resort. www.sokhahotels.com). A room is at 100 usd, breakfast included, which is not that much for a 5 stars hotel. A suite costs 123 usd. The hotel is not sound proof and during week-end, lots of Cambodians are around and it can be pretty noisy.
We have lunch in town at Marlin Grill's restaurant. The longest wait ever in a restaurant in Cambodia. Almost an hour to get the simplest of meal (that was not good).
We have dinner at 7 Club again.