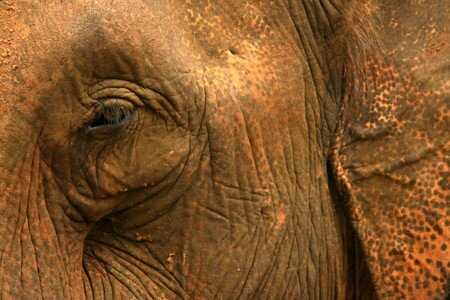 .
Ratankiri province is also famous for its waterfalls and dramatic landscapes. We chose to go there in style, on the back of an elephant. It's a pleasant almost flat ride that goes through rubber plantations belonging to a single businessman. The elephants are kept with locals and are looked after very well. After one hour and a half we arrive to Ka tieng waterfall but don't stick around as the monsoon rains have raised the level of the river and the water is brownish. Our driver/guide is waiting for us there to drive us to Voeng Sai, 35 km from Ban Lung. The road is in bad shape and very dusty. The vehicle we rent, an old non-AC pick up, does not help. We stop for a bite and end up trying the famous "cold ovaitine with milk" which reminds me a lot of Indonesia. From there, we take a boat to visit one of the tribal villages: Kachon.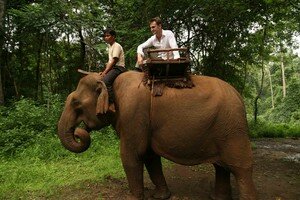 We didn't actually visit the village but the cemetery nearby. Weird idea you might think but it is one of the most incredible things we have seen so far. Every family has their own little house with wooden statues of the deceased, plants they used to cultivate, a jar of wine, a pile of cigarettes if they were smokers, a mattress over their graves and anything else they might have liked during their life. A buffalo is killed during the funeral ceremony and the head is left held on a stick in front of the family tomb. On the back there are two stone tusks, the elephant being a symbol of strength; the deceased hope to reincarnate in a powerful and dominant being. Another impressive detail is that members of this ethnic minority prepare their coffins when they are still young and healthy and store them under their houses! The Chunchiet cemeteries are very unusual and stunning. There are many others cemeteries around but the other tribes do not welcome visitors.
We take the boat again to visit some Lao and Chinese minorities who have migrated to this area at various stages. The villages have nothing really special but it's interesting to note the architectural and cultural differences between the minorities. The Chinese being focused on commerce and the Lao on agriculture and cattle raising.
Tip of the Day
Elephant ride is 10 usd per person (or 20 usd for the elephant. You can't be more than 2 people). The ride is about 1 hour and 30 mns.
Rent a 4WD for the day is 35 usd. Possibility to go by motorbike but can be very slippery during rainy season. The rent includes a Driver/guide, but don't expect high level of English or in depth explanations.
If your driver is slow (like ours), it's 1 hour and 20 mns to reach Voeng Sai. Since this is only 35 kms away from Ban Lung, it usually takes 1 hour. (4 WD show their age…)
Rent a boat to reach the Cemetery and Lao and Chinese villages costs 15 usd for the whole boat. The ride on boat takes around 1 hour to get to the cemetery
1 usd to access the cemetary
We had lunch by the river. Usual food. Simple and good.
We had dinner at our hotel. Excellent food, good service.
.