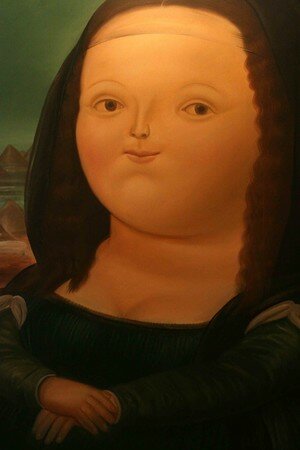 The most famous of all Colombian artists is Fernando Botero (born April 19, 1932), known for his bloated, blimp-like figures. His series of 'fat people' shows skill, humour, whimsicality, kindness, cruelty and biting satire all at the same time.
As a youth, Botero attended a school for matadors for several years, but his true interest was in art. While still a teenager, he began painting and was inspired by the pre-Columbian and Spanish colonial art that surrounded him as well as by the political work of Mexican muralist Diego Rivera. His own paintings were first exhibited in 1948, and two years later, in Bogotá, he had his first one-man show. While studying painting in Madrid in the early 1950s, he made his living by copying paintings housed in the Prado Museum—particularly those of his idols at the time, Francisco de Goya and Diego Velázquez—and selling them to tourists. He spent much of the rest of the decade studying the art treasures of Paris and Florence.
Throughout the 1950s Botero began experimenting with proportion and size. When he moved to New York City in 1960, he had developed his trademark style: the depiction of round, corpulent humans and animals. In these works he referenced Latin-American folk art in his use of flat, bright colour and boldly outlined forms. He favoured a smooth look in his paintings, eliminating the appearance of brushwork and texture, as in Presidential Family (1967).
In works such as this, he also drew from the Old Masters he had emulated in his youth: his formal portraits of the bourgeoisie and political and religious dignitaries clearly reference the composition and meditative quality of formal portraits by Goya and Velázquez. The inflated proportions of his figures, such as those in Presidential Family, also suggest an element of political satire, perhaps hinting at the subjects' inflated sense of their own importance. His other paintings from the period include bordello scenes and nudes, which possess comic qualities that challenge and satirize sexual mores, and portraits of families, which possess a gentle, affectionate quality.
In 1973 Botero returned to Paris and began creating sculptures in addition to his works on canvas. These works extended the concerns of his painting, as he again focused on rotund subjects. Successful outdoor exhibitions of his monumental bronze figures, including Roman Soldier (1985), Maternity (1989), and The Left Hand (1992), were staged around the world in the 1990s. He also continued to paint, creating bullfight scenes throughout the 1980s.
.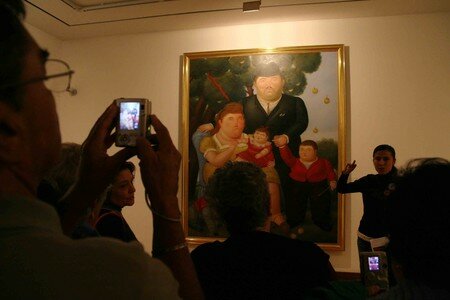 .
Located in the heart of Bogota, the Botero Museum, housed in a colonial-era building, contains the maestro's donation to the nation, which includes 123 of his own paintings, including his take on famous works like the Mona Lisa. He donated 85 pieces of his own collection of late 19th and early to mid-20th century artists, including Picasso, Renoir, Dali, Matisse, Monet, Degas, Chagall, Toulouse-Lautrec, Miro, Pissarro, Braque, Max Ernst, and Giacometti.
Botero himself oversaw every aspect of its construction, which was one of the conditions of his bequest. Another was that it should be free. He also chose the building, the colour scheme, the lighting and the arrangement of the works.
Tip of the Day
Botero museum is free. There are audio guide (6000 pesos) in Spanish and English.