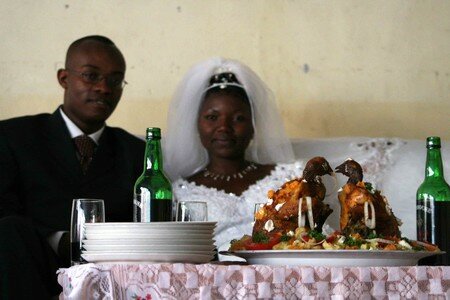 Olivier and Mimi got married. We skip the early morning ceremony at the cityhall for the civil wedding. At 11 am we are all at the church, waiting for the big event. As we arrive, two cars are parked just in front of the entrance. And people gathering around.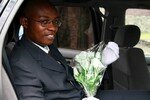 The church is almost empty. As we approach, we quickly understand: the priest is late and everyone is waiting for him. In one car, the groom is nervously awaiting. With his white gloves and flowers, he tries to stay cool. Temperature is rising and everybody longs entering the church for the ceremony to begin. We greet Olivier and wish him all the best. We head to the other car and greet Mimi. With her veil and 3 cms of make-up, she also looks forward this whole thing to start. For half an hour, we wander around, and wait patiently for the priest to show up.
After some time, here he comes. We quickly recognise him: he's same prest who married our friends here in Goma. He also was late last time... Everybody gets ready: the groom and the bride leave their car and are ready to enter the church. As we observe all of this, we notice other people showing up: another groom and bride! Looks like the timing was not very well arranged... We couldn't be more wrong. This is a double wedding. It seems to be common place in Congo. (or at least in this part of Congo).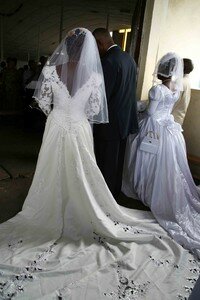 As our friends are about to enter the church, they stand side by side with the other couple. They both enter the church through the central alley. As they approach the altar, one couple goes to the left, the other to the right. A wedding is a serious matter, so we both wear our best possible dress. Jeremie got his suit and his favourite pink tie, Rita a beautiful dress. We thought everyone would be the same, but we actually find a mix of well dressed ladies, and some men with dirty Tshirts.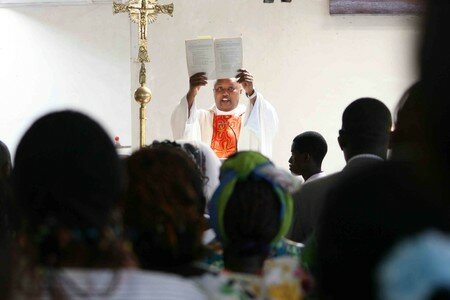 When one gets married in Congo, it requires witnesses. But one also got "ministers". Three people each, dressed the same, in charge of making sure the ceremony goes like planned.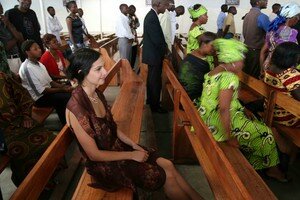 Not to mention the "Protocole", kind of master of ceremony. We sit at the back of the church and observe the all ceremony. A mix of prayers, sermons, and songs. As the key moment approches, the priest asks the ritual words to Olivier and Mimi. When both say yes and the crowd cheer them, the priest turns his back on them and goes to the other couple and does the same. Weird to see our friends having to wait this second ritual to happen before getting back to business.
It's not over. Still some more prayers, still some more songs, still some more cheers. After two hours, it's not completely over. The ceremony eventually comes to an end. We congratulate Olivier and Mimi before heading back home. Let's get some rest before the party.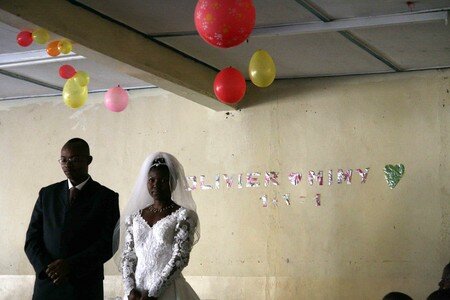 We're invited at 4 pm in a place in town where the party shall take place. Everything starts late in Congo and wedding are no exception. We don't fancy waiting for hours and luckily we have someone already there who call us when it's time to come. When we arrive, the protocole asks us to sit in the front row.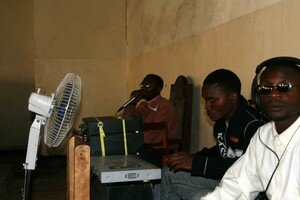 Imagine a big dark room, full of people (this time, only the real guests, we shall not see the stranger couple anymore). A DJ is here and play some congolese rumba. A guy with a microphone is the animator of the day. He keeps on saying the same words over and over : "Karibu Olivier, Karibu Mimi" (Welcome Olivier, Welcome Mimi). Looks like we're all glad to have them coming then. Our favourite couple eventually arrive and everybody greet them. Two glasses of wine are being brought to them and they cheer in front of all of us. A surrealist sculptured plate is then being brought: Two chicken, symbolising the newly wed (weird analogy, but hey, why not!!??). After all of this, food is being brought. There are more than 100 people in the room, and we fear the worst. Some kind of riot, everyone jumping for one's share.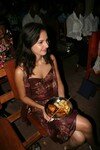 Not at all. The couple gently stands and take their food: the usual food for such occasion is on offer: goat brochettes, chicken, sweet potato, cassava leaves, etc. As they go back to their seat, the special guests (read the Muzungu - the white people, i.e. us) are invited to help ourselves. As we sit and start eating, sitted on the bench, people on rows behind us start approaching and take their food. Drinks are either "sucrés" (soft drinks) or beer.
After the meal, the couple leave he room to get some rest. The crowd stays on, as the room is being installed for the evening party. We're in Congo so there's gonna be serious dancing. We're a bit tired and don't feel like staying the whole show, so we leave discreetly. That was a fine wedding.
Our best wishes to Olivier and Mimi.