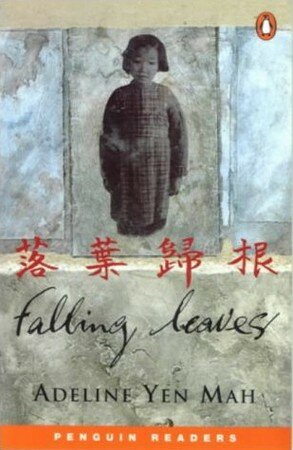 Falling Leave by Ameline Yen Mah
Set against a backdrop of changing political times and the collision of the East and West, Falling Leaves describes the true and complicated story of Adeline Yen Mah's survival of an abusive childhood at the hands of her father and stepmother.
The Chinese aphorism "falling leaves return to their roots" captures the essence of the psychological journey Adeline Yen Mah undertook when she decided to confront, and recount, her life story.
Adeline's years of mental and physical abuse began when her mother died shortly after giving birth to her. Because of this Adeline was thought to be the bearer of bad luck; leaving her to suffer under a cold and manipulative stepmother whose sadistic acts were never questioned by her husband. Adeline's only refuge was her beloved Aunt Baba, a remarkable woman who rebelled against traditional Chinese custom, founded the Shanghai Women's bank, and lavished encouragement and affection on her niece. Eventually Adeline travelled to London to study medicine, then made a new life for herself in the United States. But her horrific childhood continued to haunt her, until at last she was able to examine and accept her roots.
With a powerful voice that illuminates the complexities of Chinese society and family relationships throughout all cultures, Falling Leaves is a work of startling, heartfelt intimacy, a gruesome chronicle of nonstop emotional abuse. Chinese proverbs scattered throughout the text pithily covey the traditional world view that prompted Adeline's subservience.


Despite Mah's success as both a physician and writer, she still sought her parent's love and acceptance until their deaths. The same struggle for parental approval transcended all the children and led to strife and heartache between the brothers and sisters in their adult years, destroying most of the sibling relationships.
Adeline Yen Mah's autobiography of her cruel childhood reads like a modern day Cinderella story. But there are a couple of key differences: this Cinderella grew up in pre-communist and communist China and this story doesn't offer a "happily ever after" ending. Instead, it feels indefinitely unresolved, especially for the author and her personal struggle.